Telos Z/IPStream Audio Over IP HE-AAC Shoutcast Internet Streaming MP3 Codec [Refurbished]
(
363017399515)

)

Regular price

$1,157.00

Sale price

$1,926.00

(1 available in stock)

Near Mint Cosmetic Condition • Fully Working • Clear OLED Display Panel • Great for IP Streaming of Webcasts • 1 Rack Unit Format

Photos show the actual item for sale

A lightly used audio streaming appliance used to transfer broadcast audio from one location to another or to act as a master streaming source to encode a stream for a service provider to replicate and send to multiple clients (eg. act as a Shoutcast server etc). This unit has balanced analog I/O. The firmware is the latest posted version at the time of listing ie. v3.0.7. Full details may be obtained from the User Manual (https://www.prostudioconnection.net/2006/ZIPStream_R1_Encoder.pdf). The device is managed by both front panel menus and a http based admin system - see screenshots below taken of the actual unit for sale while under test. These were initially titled ProSTREAM units, but later they were renamed to Z/IPStream R/1 to be consistent with other audio over IP codecs in the Telos portfolio.
Description - Z/IPSTREAM R/1
Z/IPStream combines audio processing with MP3 and AAC encoding in one convenient, single-rack unit. The AAC encoder supports AAC-LC, HE-AAC and HE-AAC v2 formats, and is fully managed and configured remotely with any standard Web browser.
Full details may be obtained from the User Manual
(https://www.prostudioconnection.net/2006/ZIPStream_R1_Encoder.pdf)
Z/IPStream features a wideband AGC, 3-band compressor/limiter, EQ, low-pass filter and a precision look-ahead final limiter; processed audio can then be encoded directly to MP3 or AAC streams to feed a remote replication server at your ISP. Streams can be "tagged" with "now-playing" information received from automation systems.
Usually Sells for $2,066


Features
Audio pre-processing, stream encoding and delivery to remote replication server, all in a professional 1RU appliance.
Pro-grade 24-bit A/D converter for studio-reference quality audio.
Choice of MP3 or AAC-LC, HE-AAC, HE-AAC v2 stream coding, with output bit rates from 16 kbps to 320 kbps (dependent upon active codec).
Omnia audio processing includes wideband AGC, 3-band compressor/limiter, EQ, low-pass filter and precision look-ahead final limiter.
Metadata support for all popular playout platforms allows streams to be dynamically tagged with "now-playing" information from automation systems.
Studio-grade analog and Livewire IP-Audio I/O, with separate LAN & WAN Ethernet ports.
Directly supports ICEcast, SHOUTcast, SHOUTcast v2, Adobe Flash Media Server as well as Adobe RTMP, RTP streams (including RTP multicast), as well as LimeLight, Akamai and other popular streaming servers.
Dual encoder support can be used to provide high and low bitrate streams, or MP3 and AAC at the same time.
Can accept metadata over TCP/IP, UDP, or RS-232 (using USB to RS232 adapter).
HTML web user interface for remote configuration and management from computers and mobile devices.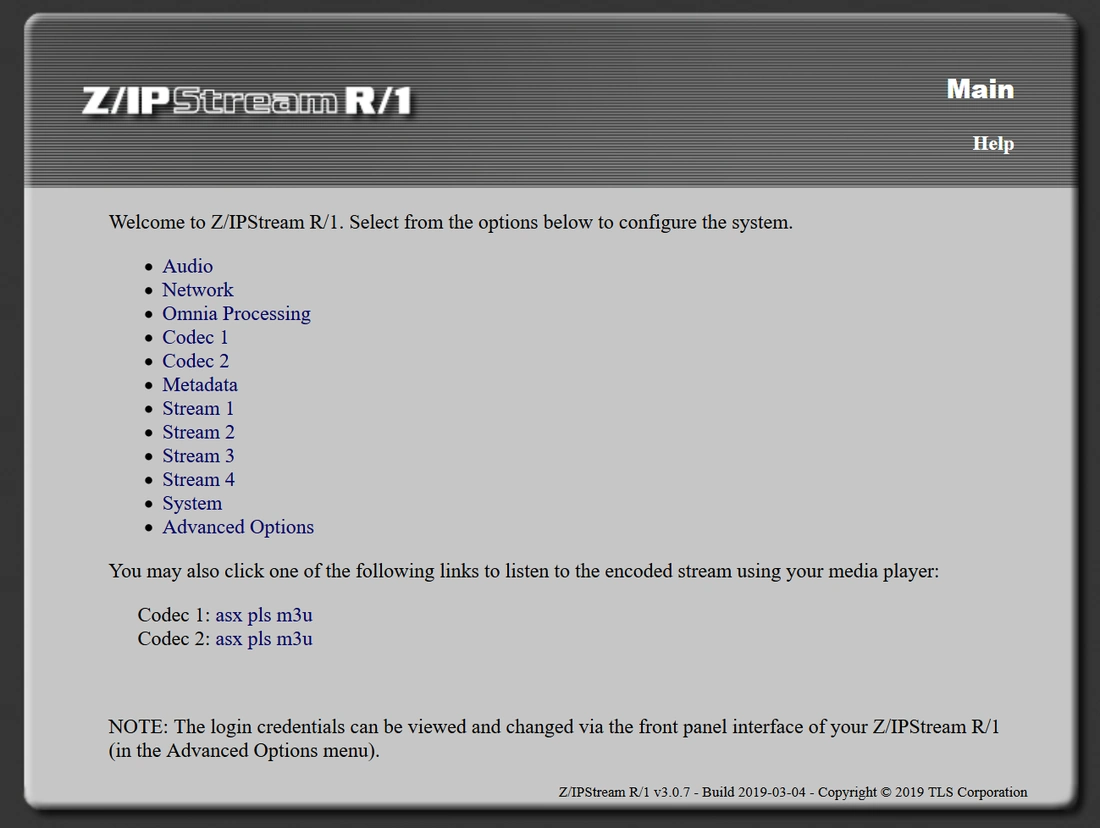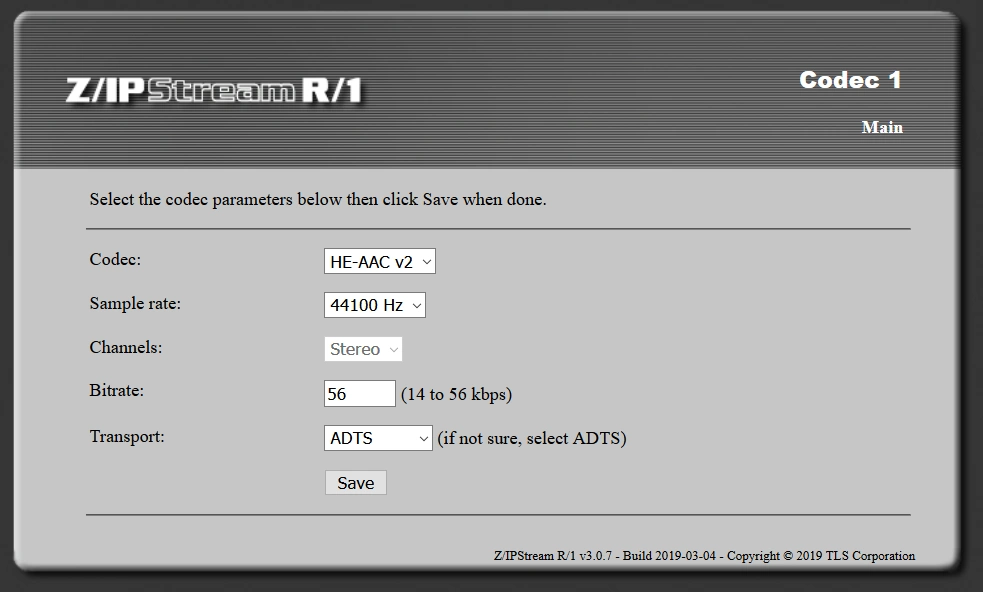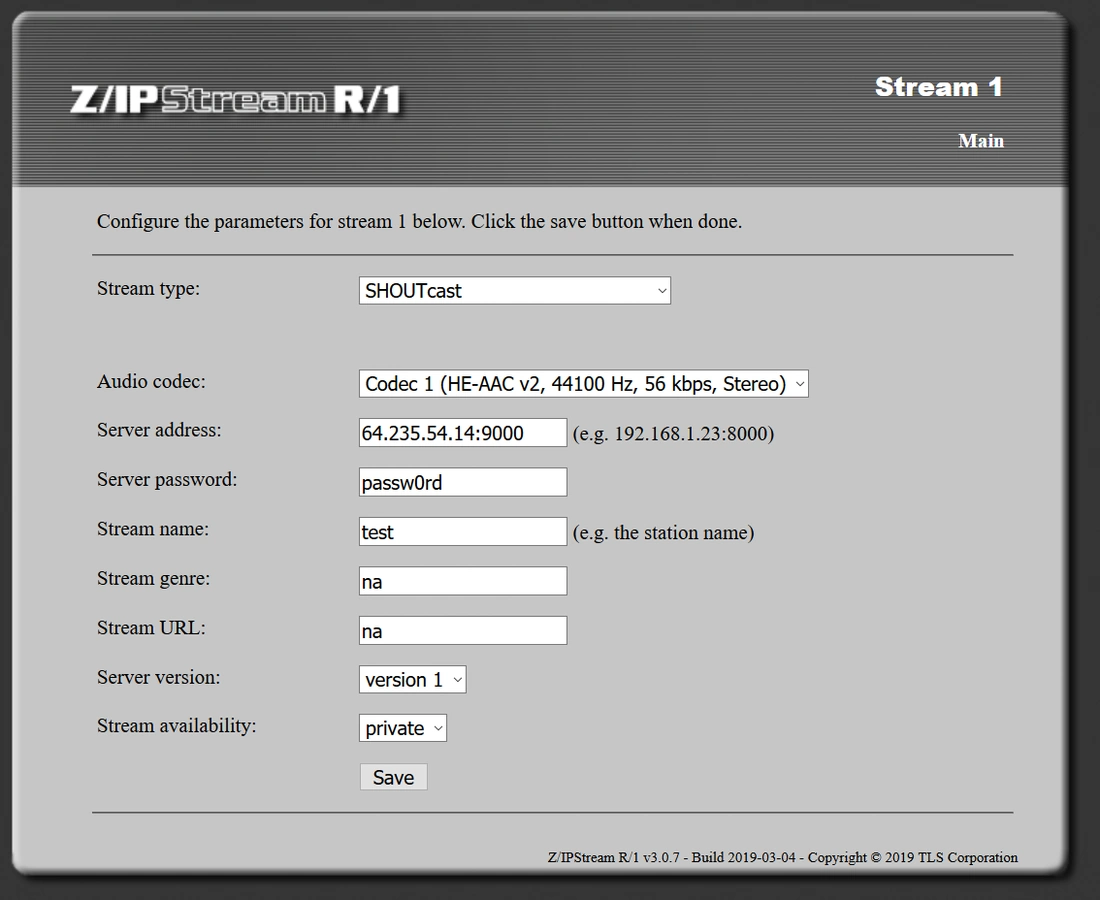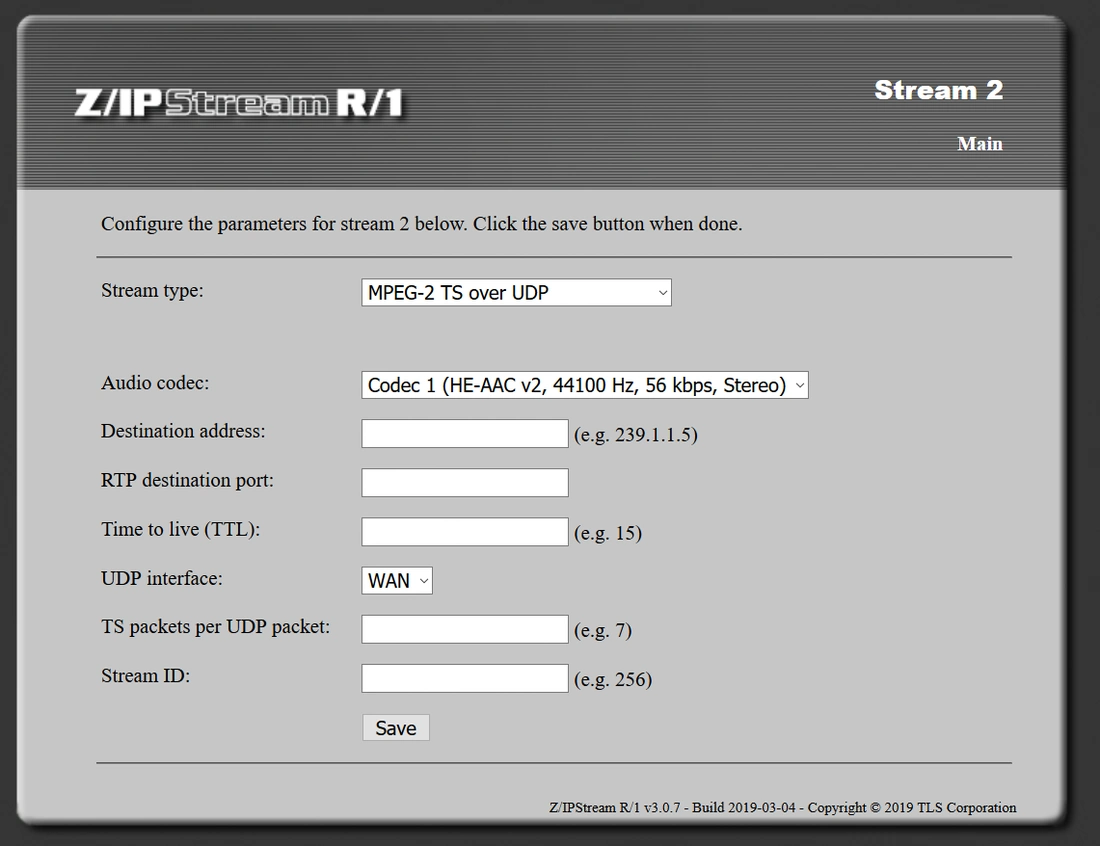 Z/IPSTREAM R/1 IN DEPTH - Plug. Play. Stream.
For years, the way to stream audio to Internet listeners included unbalanced mini-jacks, poor-quality sound cards, one or more PCs to maintain, and a collection of software that didn't always play nicely together. Broadcasters asked for a professional, PC-free Web streaming solution — and Telos delivers.
Z/IPStream R/1 takes the hassle out of streaming. There's no PC needed; Z/IPStream R/1 takes just 1RU of rack space. Slide it in and it's ready to go streaming. Just send audio to Z/IPStream R/1, make a few setup selections and, within minutes, you'll be streaming your programming to your favorite stream server or streaming service for worldwide distribution.
Broadcasters know that Telos is the codec expert, and Omnia is the processing authority. Z/IPStream R/1 puts all of our expertise into one integrated streaming appliance. First, incoming audio gets treated to pre-processing from Omnia, using algorithms that work hand-in-glove with Z/IPStream R/1's codecs to shape and optimize audio prior to encoding. Then, genuine MPEG encoding algorithms from FhG, the inventors of MP3, ensure the most artifact-free sound quality at whatever bit rate you choose. Encode directly to an MP3 or MPEG-AAC stream, then send it to a Shoutcast, Wowza, Icecast, LimeLight, Akamai, Adobe Flash Media server, or other popular streaming server for distribution to your waiting listeners.
Setup is a breeze. Log in with a laptop and Web browser for easy setup or remote control, or tweak the front-panel controls. This web interface is based on HTML5 so it's accessible from most modern browsers, including smart phones, tablets, and other devices. There's also a convenient built-in headphone amp with 1/4" jack and volume control for last minute in-the-rack fine tuning.
Z/IPStream R/1 comes with studio-grade analog inputs and outputs, plus Livewire Audio over IP. On the output side, Z/IPStream R/1 delivers fully processed, unencoded audio as well as encoded audio, providing your studio with another source for processed sound. Full network connectivity is provided via two Ethernet jacks, one for the LAN (including Livewire) and the other for the WAN and streaming.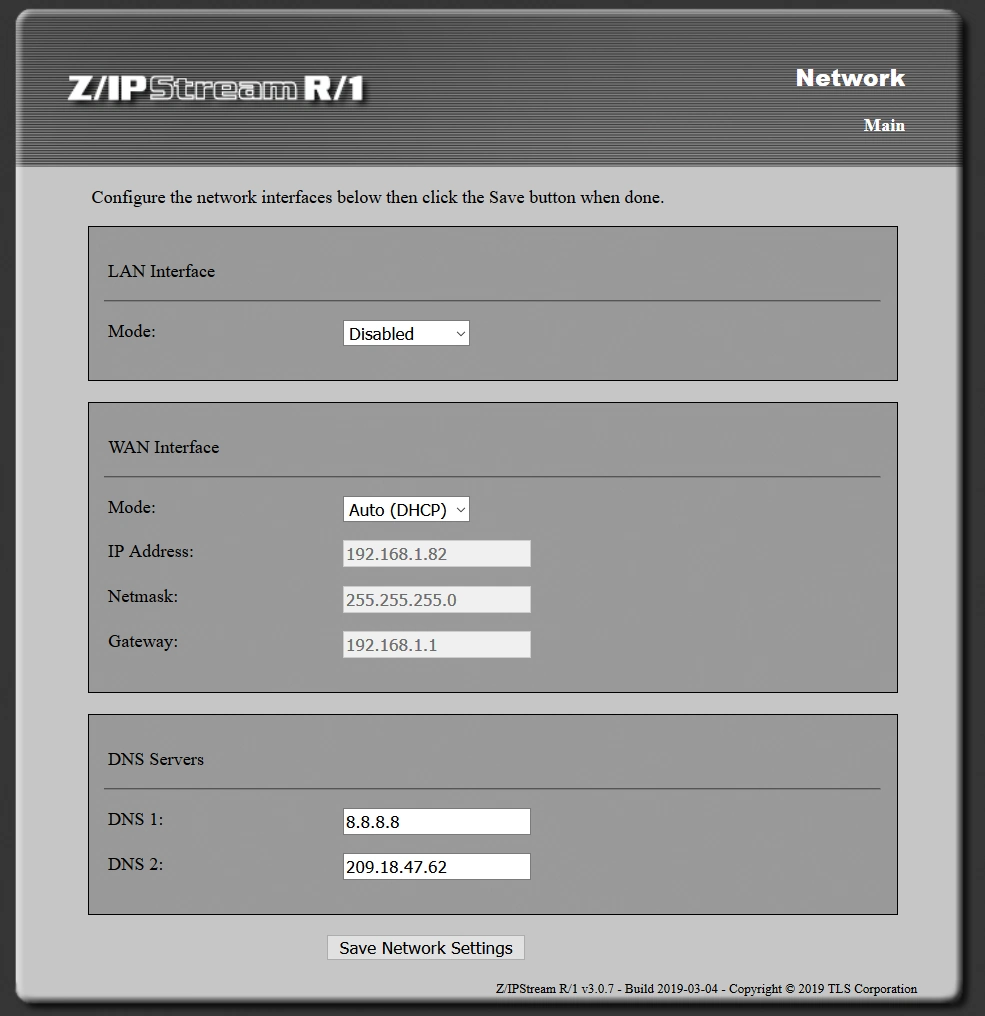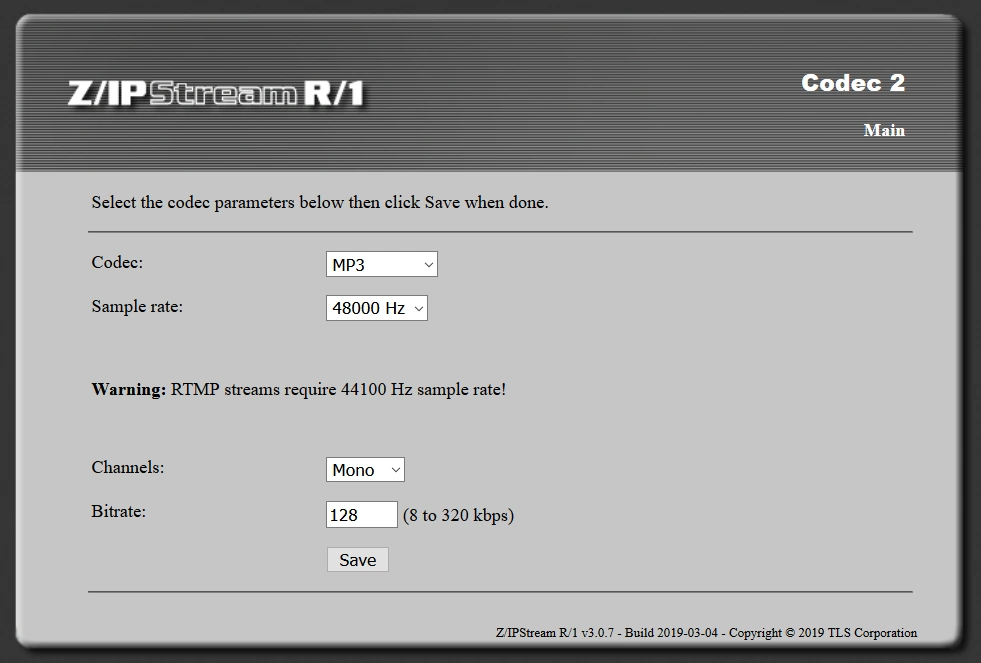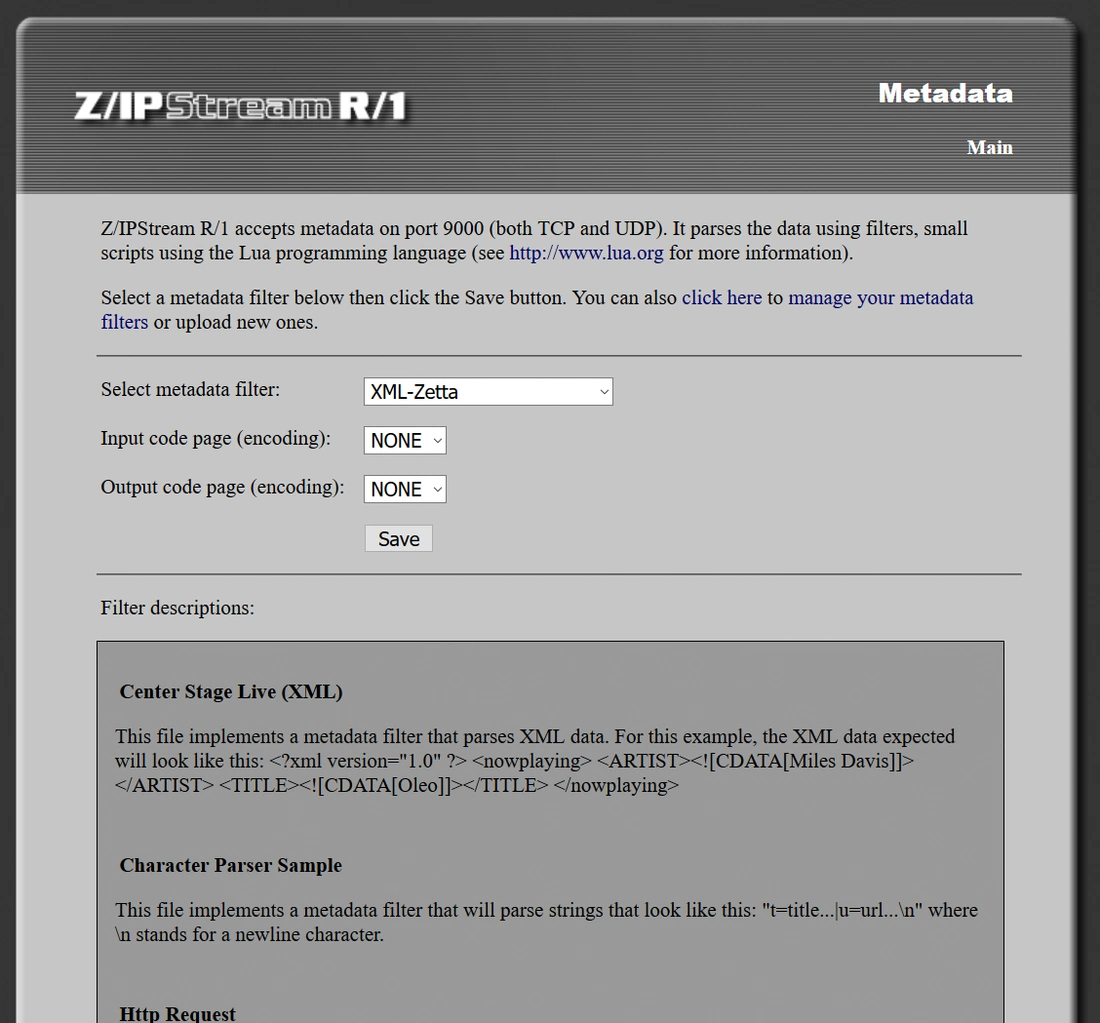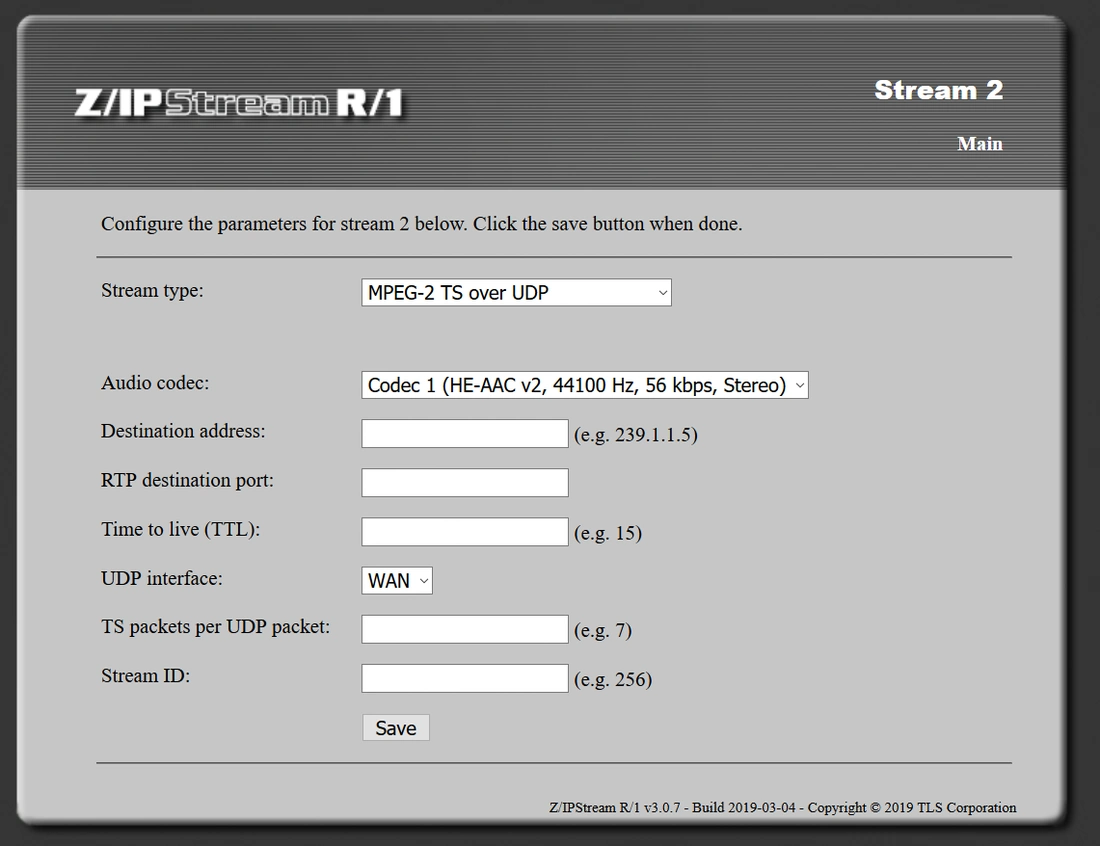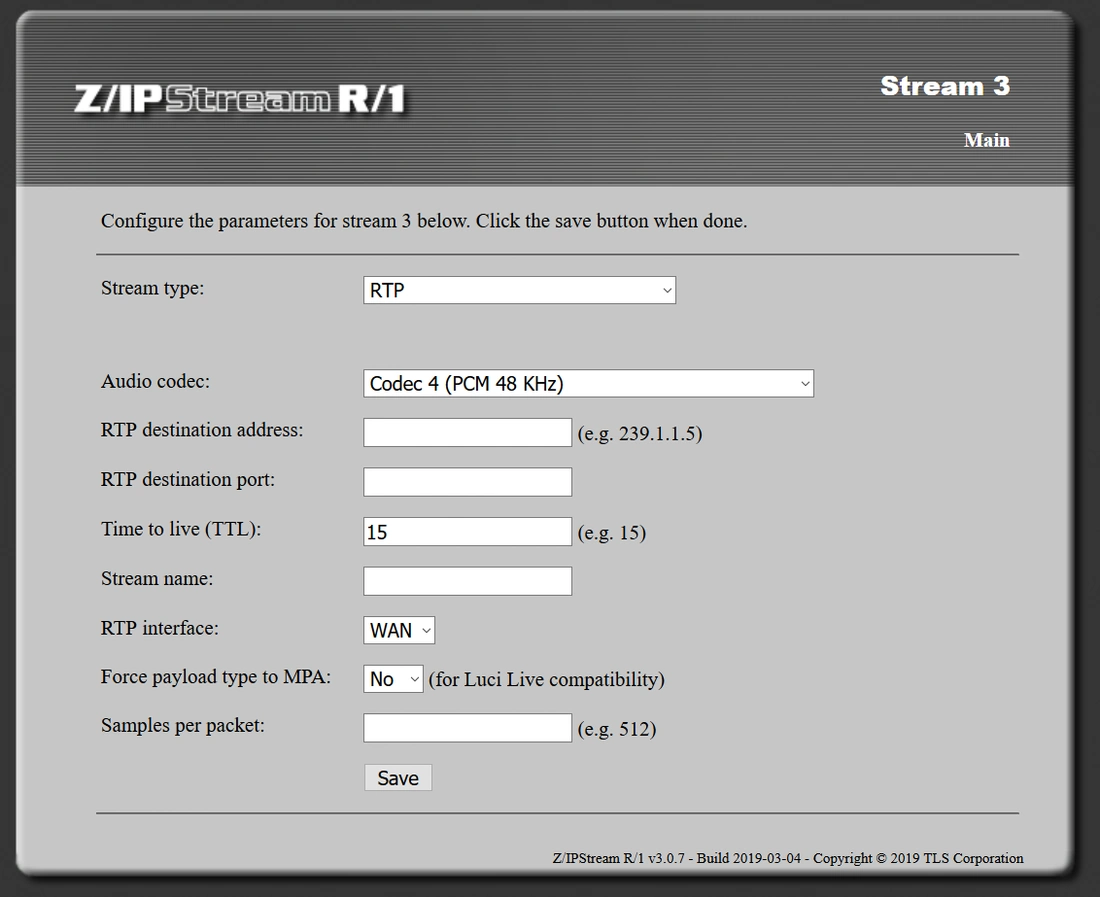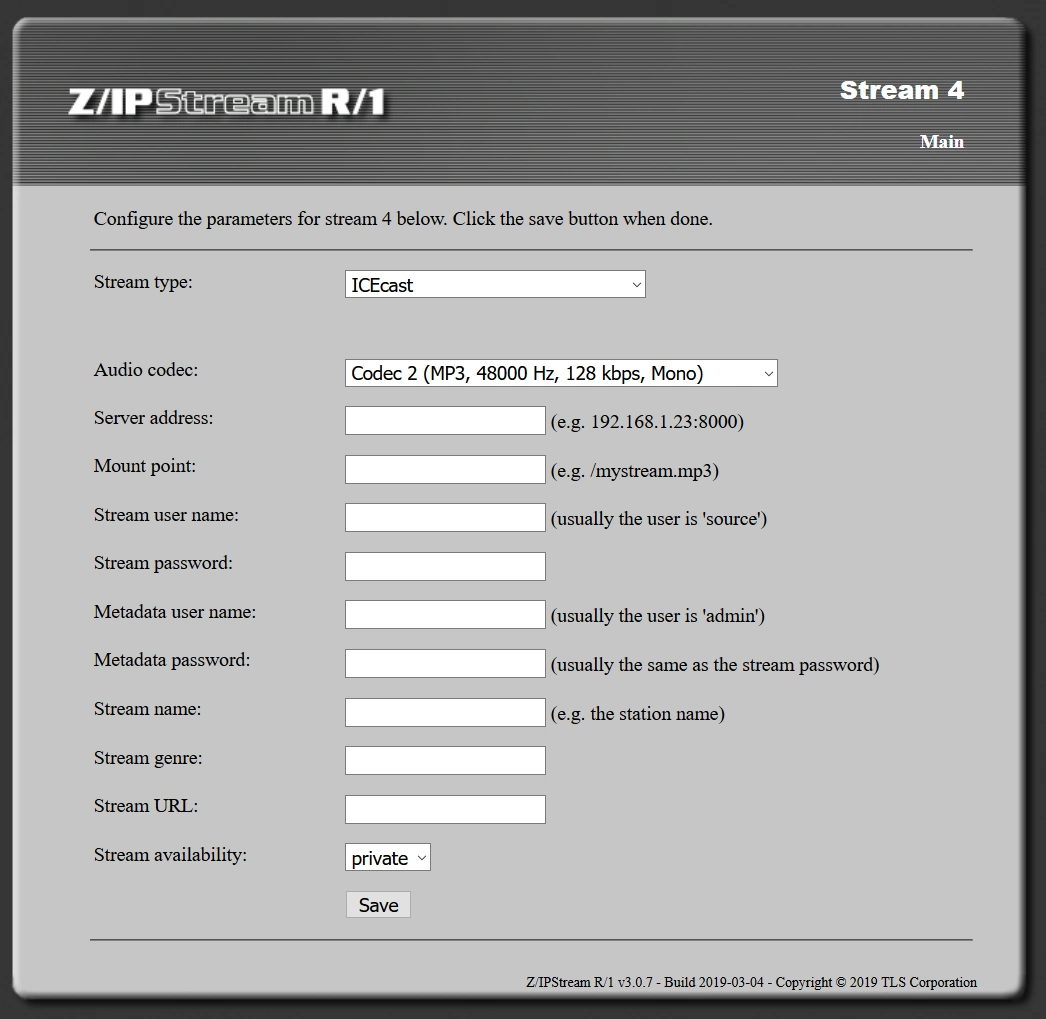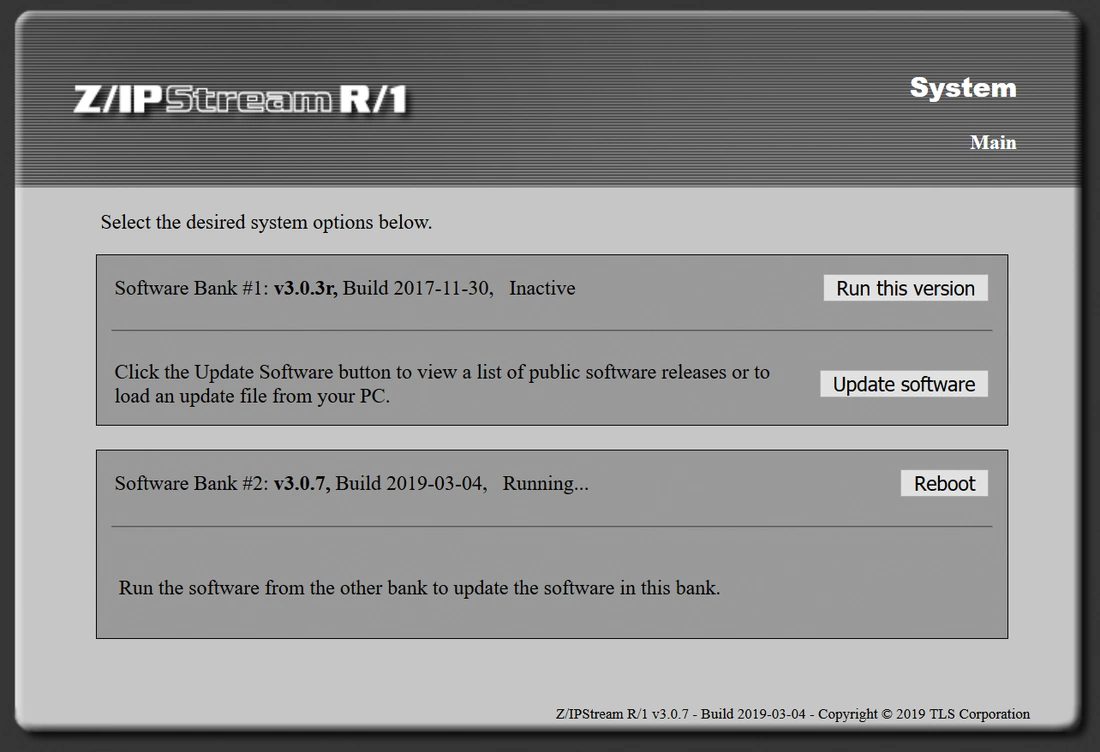 ---
Share this Product
---
More from this collection