Trak Systems 8821 GPS Disciplined 10MHz OCXO Sine/Pulse Oscillator IRIG-B 1PPS [Refurbished]
(
234295271605)

)

Regular price

$317.00

Sale price

$465.00

(1 available in stock)

Tested/Guaranteed • OCXO Oscillator • 10MHz GPSDO • Sine or Pulse 10MHz Output • BNC Ports • 5V Test Antenna Included • 1PPS • IRIG-B Output

Photos show the actual item for sale

A used Trak 8821 GPS Disciplined Clock/Frequency/Pulse Generator with an OCXO oscillator installed. The unit has been tested and found to work as expected with the correct date and time shown via the IRIG-B timecode output. The responses to the various control commands are copied below. This seems to be a later revision than referenced in the manual linked below as it has a later 12 channel Motorola M12+ receiver installed. A basic puck antenna is included to allow you to test the unit immediately upon receipt. For a permanent installation and accurate time/frequency generation a professional grade outdoor antenna with a clear view of the sky will be required (TNC rear panel connector). I can provide a recommendation if required - the antenna voltage is 5V so almost any professional grade outdoor antenna can be used. Full product information may be obtained from the User Manual (a close match) at https://www.prostudioconnection.net/2111/Trak_8821A_Manual.pdf.

Description
The Model 8821 GPS Clock incorporates a multi-channel parallel GPS receiver, a disciplined crystal oscillator, and a precise time and frequency generator in a single cost effective assembly. Phase offset of the 1 PPS output, referenced to UTC, is typically less than 100 nanoseconds when one or more satellites are being tracked.

(test equipment not included)
The Model 8821 incorporates automatic oscillator calibration by GPS, automatic leap second correction and built-in calendar for automatic leap year updates. By using the remote setup feature, the operator may set up for automatic daylight savings time corrections. These features, plus a very high MTBF, and an RS-232 remote status-monitoring feature virtually eliminate the need for site visits for setup, calibration, and maintenance.

(test equipment not included)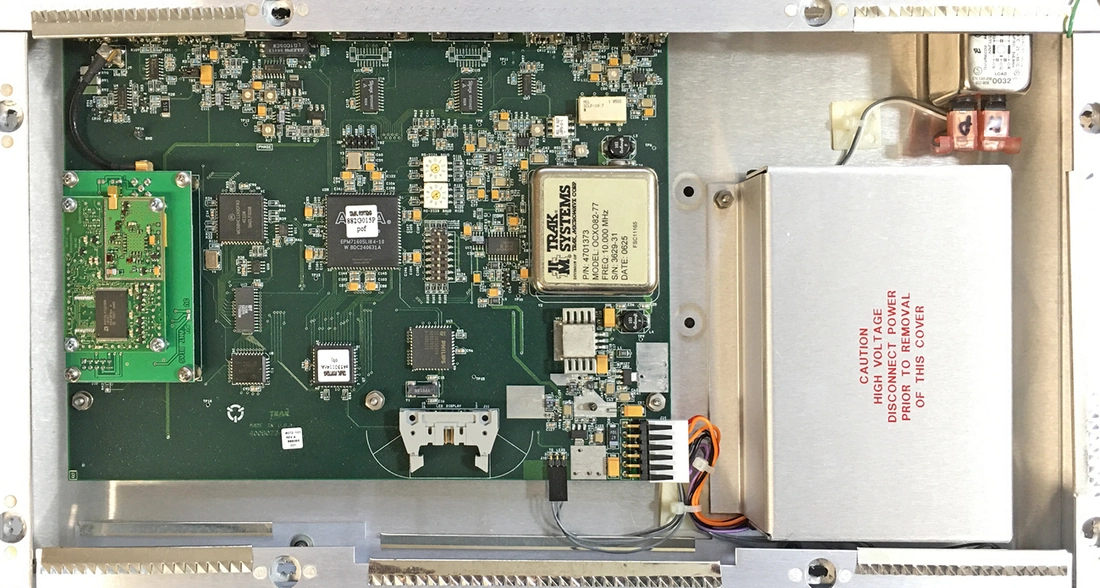 Console Port Output
r1
2021322215745-0500040110281018U
r2
2832178N08139158W+00037.5F
r3
I I10001NS0000004520287B0000002 2 IRIG0000ED00+000000000000065
r4
??31146910 +67000.0000.0000.0000.0
r5
032524037.6043224138.2081830936.4162368137.6222253237.6260355337.8310642737.6321
330834.7
r6
UUHHUUUHHUUUUUUHUUUUUHUUUHHUHUHH
r7
88214520287B
r8
0000000N00000000E+00000.
rqut
RQUT 322:21:58:57.830,4
rqlt
RQLT 2021,11,18,16:59:02.680,4
rqgt
RQGT 2021,11,18,21:59:25.570,4
rqto
RQTO UTC-05,00 DST+0
rqls
RQLS 00,00,00
rqss
RQSS 01U,02U,03H,04H,05U,06U,07U,08H,09H,10U,11U,12U,13U,14U,15U,16H
RQSS 17U,18U,19U,20U,21U,22H,23U,24U,25U,26H,27H,28U,29H,30U,31H,32H
rqst
RQST 03,04,08,16,22,26,31,32
rqln
RQLN 28:32.186N,081:39.164W,+00022.1
rqlp
RQLP 40:18.690N,080:07.491W,+00271.0
rqap
RQAP ERROR
rqsd
RQSD PRN 03, AZ=250, EL=40, SN=37.6, TRK=Y
RQSD PRN 04, AZ=322, EL=42, SN=37.8, TRK=Y
RQSD PRN 08, AZ=182, EL=10, SN=35.9, TRK=Y
RQSD PRN 09, AZ=317, EL=08, SN=04.6, TRK=N
RQSD PRN 16, AZ=242, EL=81, SN=38.0, TRK=Y
RQSD PRN 22, AZ=225, EL=31, SN=38.0, TRK=Y
RQSD PRN 26, AZ=035, EL=52, SN=38.0, TRK=Y
RQSD PRN 27, AZ=158, EL=28, SN=35.7, TRK=Y
RQSD PRN 31, AZ=065, EL=26, SN=37.6, TRK=Y
RQSD PRN 32, AZ=133, EL=07, SN=35.9, TRK=Y
rqds
RQDS D
rqbs
RQBS 80188=00000 6811=4520287B 6805=00000 RCVR1=2 RCVR2=2
rqfs
RQFS G,G,G,G,G,G,G,G,G,G,G
rqlk
RQLK LOCKED SINCE 322:21:43:30
rqir
RQIR INT REF-UTC, +117
rqdr
RQDR 31144
---
Share this Product
---
More from this collection