Wheatstone Vorsis M-1 AES Digital 96KHz Voice Processor Preamp Compressor M1 [Refurbished]
(
285089648408)

)

Regular price

$982.00

Sale price

$1,605.00

(1 available in stock)

Tested/Guaranteed • MINT- Condition • Fully Working • 24bit/96KHz Voice Processor • AES Digital & Balanced Analog Outputs • Compressor • Limiter • EQ


Here's mint- cosmetic condition Vorsis M-1 Preamp/Speech processor. All functions can be accessed via the front panel, as well as via a PC based remote control application. (I can provide the install file if required). The control app allows for instant recall of different presets and the front panel control functionality can be locked out if required. The remote control works via a static IP address so you will need some familiarity with Windows IP networking probably to set that up. If the unit's front panel is locked upon receipt press the LOCAL button and hold for four seconds. Unit ships set to the IP address default value of 192.168.1.190. The User Manual may be downloaded from https://www.prostudioconnection.net/1603/Vorsis_M-1_MANUAL.pdf.

Usually Sells for $1,639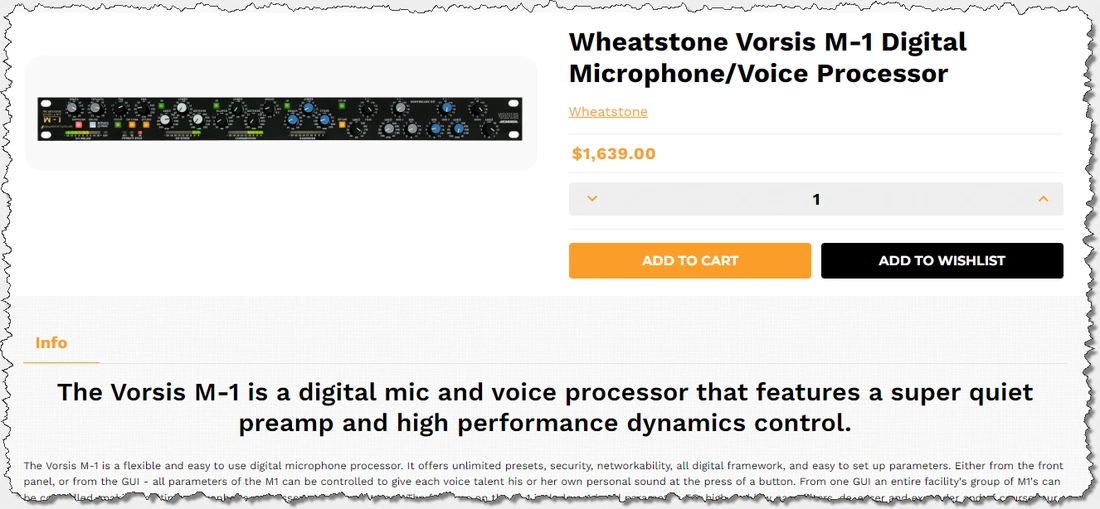 Description
All-digital processing
Super-Quiet (SQ) mic preamp
Proprietary Vorsis dynamics processing
Unlimited presets, security and networkability

No matter how quickly technology evolves, you can always count on Wheatstone to deliver the digital goods to keep you on track. This flexible digital mic processor offers presets, security, networkability and easy-to-set-up parameters. Either from the front panel, or from the PC graphic interface, you can control all individual parameters to give each voice talent his or her own sound with just a simple press of a button.
Full details may be obtained from the User Manual at
https://www.prostudioconnection.net/1603/Vorsis_M-1_MANUAL.pdf

Features include an extremely low noise microphone preamp with phantom power, 44.1, 48 or 96 kHz output sample rates, 4 bands of parametric EQ, high and low pass filters, and a fully adjustable compressor, de-esser, and expander. The M1 also offers real-time TCP/IP remote control. Boasting a 24-bit sample rate converter, AES3 digital and 24-bit resolution analog outputs, it comes loaded with factory designed presets, and makes it easy to design your own.
Features:
Control of all audio parameters
Optional Intuitive PC graphical user interface (GUI); TCP/IP Ethernet remote control
High quality, low noise microphone preamp
Phantom power
LED Metering: In/Out, De-esser, Compression, Expansion
44.1, 48 or 96 kHz AES3 output sample rates
24-bit A/D, D/A converters
Preset storage/recall via GUI
Variable frequency De-esser Voice phase scrambler
Adjustable compression, Downward expansion, Output limiter
EQ: two-band parametric plus variable high and low shelving, Tunable high and low pass filters
FFT voice energy display via GUI
Quick save/compare function
Takes up only one rack space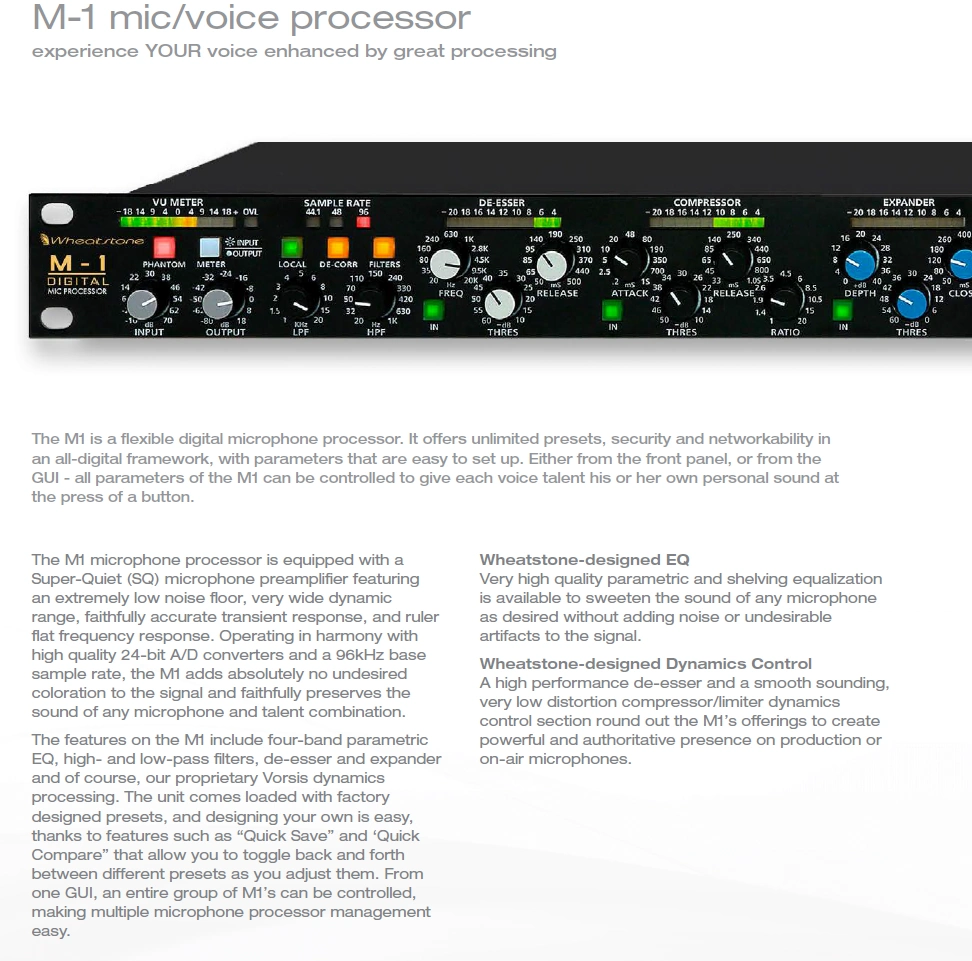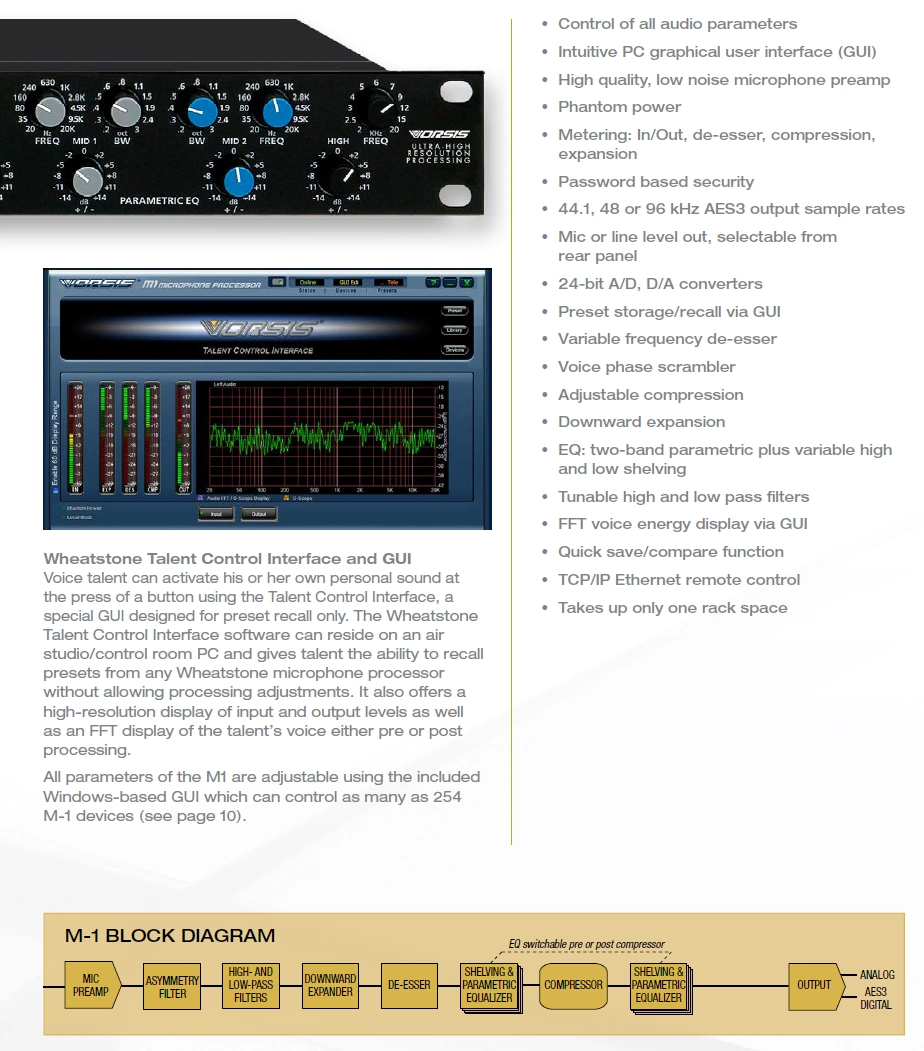 ---
Share this Product
---
More from this collection