Wohler LM30-4 Dual Balanced Analog 30 Segment LED Peak/RMS Bar VU Meter 1U [Refurbished]
(
363095367119)

)

Regular price

$263.00

Sale price

$386.00

(0 available in stock)

Tested/Guaranteed • Fully Working • Balanced Analog Input • Dual Dot/Bar Display For Peak & Average Audio Levels • 100-240V • Connector Blocks Included • Was $1145

Photos are of the actual item for sale

---
Unit is lightly used and has been tested for correct operation. The power input is 100-240V AC. The photos show the actual item for sale. Connector blocks are included as shown. Input is analog audio - this meter will not read digital audio signals.
Description
The Wohler LM30-4 is a rackmount Analog 4-channel level meter, equipped with dual 2-channel 30-segment high resolution Large Segment Bargraph displays, and offering simultaneous VU and PPM display ballistics, a dedicated brightness trim control, 70dB of usable dynamic range, and a 48kHz sampling rate on input.
Full details may be obtained from the User Manual at
https://www.prostudioconnection.net/2009/LM30-4_User_Manual.pdf

The LM30-4 is a professional unit, designed for use in radio and television broadcast, mobile production vehicles, recording studios, and other applications requiring precise and flexible level monitoring.



Features
1RU rackmount Analog high-resolution 4-channel level meter
48kHz sampling rate on analog input, wide 70dB dynamic range
-49 to +16dB standard scale
Dual 2-channel 30-segment tri-color LED Large Segment Bargraph display with simultaneous VU and PM display ballistics
Simultaneous visual monitoring of all channels
Extended VU scale with 1dB Midscale resolution
Adjustable front panel Bargraph brightness control
4-stage Gain calibration and display mode ballistics DIP switch controls
Usually Sells for $1,145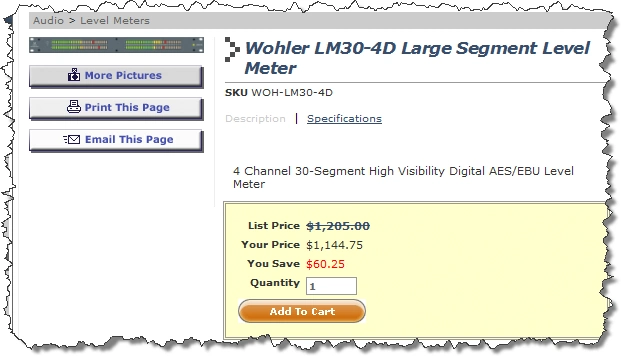 ---
Share this Product
---
More from this collection