Wohler LM53-4 Dual AES/EBU BNC Digital Audio Stereo LED PPM/VU Peak Audio Meter [Refurbished]
(
284134682025)

)

Regular price

$170.00

Sale price

$253.00

(1 available in stock)

Tested/Guaranteed • Very Good Condition • Fully Working • Dual Stereo/4 Channels • LED VU/PPM Digital Audio Meter • 115/230V Auto Power • Dual BNC 75 Ohm Inputs

Photos show the actual item for sale

A lightly used audio level meter.  Inputs are for Digital Audio on BNC jacks.  Note that this meter will not work with analog audio.

Description
The LM53-4 digital audio level metering unit provides two pairs of 53-segment level meters.
The display mode is set as a single segment PPM 'dot' above a VU bar; each segment's color is fixed according to its position on the scale.
Each bargraph meter section (pair) may be individually adjusted for a number of parameters, including Display Mode, Peak Hold, PPM Ballistics, Alternate Scales etc via DIP switches.
The User Manual may be obtained here
(https://www.prostudioconnection.net/1605/Wohler_LM53-8_Digital_Manual.pdf)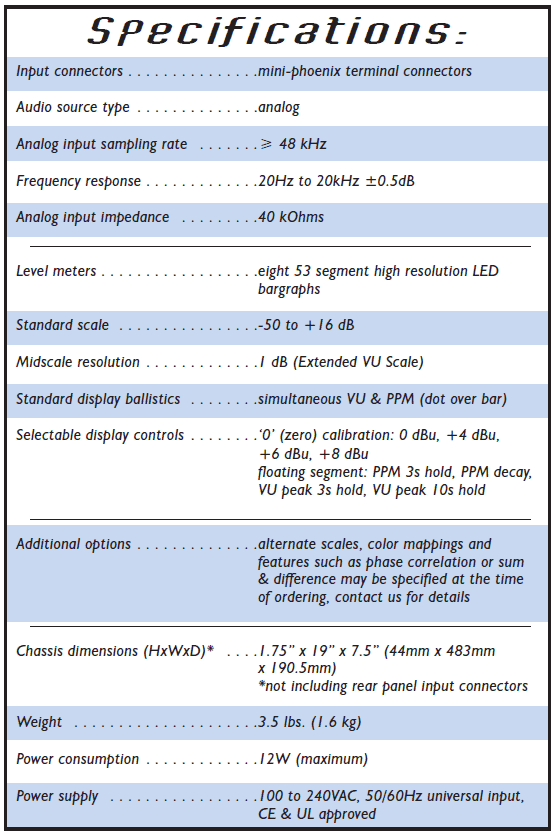 ---
Share this Product
---
More from this collection