[LOT OF 6] Telos HX1 Digital Hybrid Broadcast Phone Line Audio Console Interface TBU MINT- [Refurbished]
(
HX1_x_6)

)

Regular price

$1,770.00

$0.00

(1 available in stock)

Tested/Guaranteed • Used, Fully Working • MINT- Cosmetic Condition • Balanced XLR I/O • Superior Audio Quality


Used, in excellent, near mint cosmetic condition. Tested to confirm that it is fully working. Ships in plain packaging. No printed manual is included, but a copy may be downloaded here if required (https://www.prostudioconnection.net/0113/Telos_Hx1-Hx2_Manual.pdf). No unpictured cables, accessories or documents are included.
Description
A cost efficient yet highly professional digital telephone interface that is simple to use and provides more features than ever before. Taking communication to the next level
This is the Telos Hx – the thinking hybrid. All of Telos exceptional processing and an array of new technologies make this POTS hybrid a revolution in consistently superior performance.

Usually Sells for $795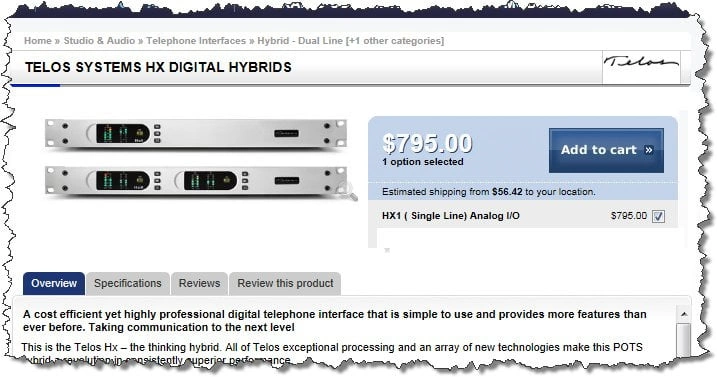 Inside the single-hybrid Hx1, you'll find our advanced hybrid technology with new features to sweeten and control caller audio better than ever before. Omnia processing intuitively manages levels and eq. Extra DSP power is added so even unruly mobile phone audio is brought to submission. The power supply is now internal. New features like built-in Auto-Answer, caller disconnect detection, ingenious audio-leveling and anti-feedback routines for enhanced open-speaker applications, call screening and line-hold features, and front-panel send and receive audio metering are standard on the Hx.

Telos has reinvented the digital hybrid. It offers more features but costs less. It sounds better and works harder but is easy to configure and simple to install. Make wiggy POTS signals work in your studio for broadcast, podcast or whatever. The Hx1 will make it happen.
For full details please see the User Manual
(https://www.prostudioconnection.net/0113/Telos_Hx1-Hx2_Manual.pdf)

Features
The best, most advanced hybrid algorithms.
New symmetrical wide-range AGC and noise gate by Omnia, with adjustable gain settings
Studio adaptation and pitch shifter help prevent feedback in situations where open speakers are required.
Adjustable caller override improves performance and allows you to individualize the degree to which the announcer
ducks the caller audio
DDEQ-Digital dynamic EQ keeps audio spectrally consistent from call to call
New EQ High and EQ Low display meters for each hybrid
Separate Send level and Receive level meters for each hybrid
Status Symbols make life easier for producers and talent with their animated high-contrast icon display of line status
Place caller on-hold via front panel button
Auto-Answer with selectable ring count
Worldwide disconnect signal detection. (loop drop, dial tone, or reorder tone)
Input/output via analog XLR
Input switchable between MIC or LINE levels.



---
Share this Product
---
More from this collection