Symetrix 322 DSP Digital Audio Dynamics Processor AGC Auto/Remote Gain Control [Used]
(
233676181012)

)

Regular price

$82.90

Sale price

$299.00

(1 available in stock)

 Used, Good Condition • All Connector Blocks Included • Normally sells for $649 • Programmable/Remote Controlled Adjustment of Gain • Auto AGC • EQ • Compression • Gate etc • Symetrix 322 Digital Dynamics Processor DSP

Photos show the actual item for sale

Item is used, fully working and in very good cosmetic condition.  The photos show the actual item for sale.  The connector blocks are included as shown.  Note that NO power supply (https://www.prostudioconnection.net/0113/322_psu.jpg) is included - as I assume that most sales will be for maintenance spares/replacement for legacy installations and the previous power supply can be reused, given that replacements have become very expensive (>$100 each last time I checked) and will drive up the cost if included by default. If you don't have one, let me know and I'll see if I can find one and edit the listing accordingly. I will only be able to find a 115V PSU, not the 230V type. Note that the application software may not work with later Operating Systems.
Description: Two Channel 24-bit Multi-Purpose Signal Processor.
This compact DSP Engine matches a deep set of processing features with a breakthrough price. Small installations with small budgets don't have to dictate small audio thinking. Designs that previously would have required either multiple analog units, or DSP power available only from large multi I/O platforms, are all possible with the 322 DSP Engine. This half-rack unit provides all the processing generally needed between a mixing console and a power amplifier in any basic sound system. Enhance performance and increase flexibility with the 322 DSP Engine from Symetrix, the engineering-driven company of signal processing specialists.
Usually Sells for $619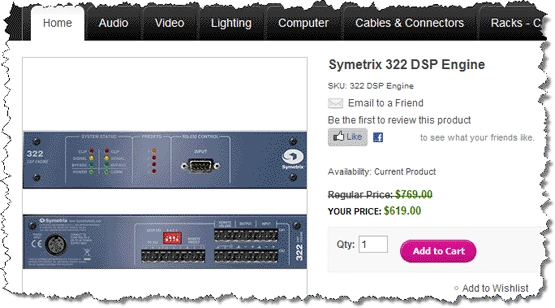 Product information is available below
Software - https://www.prostudioconnection.net/0113/322_v102.exe
Datasheet - https://www.prostudioconnection.net/0113/Symetrix_322_ds.pdf
Quick Start Guide - https://www.prostudioconnection.net/0113/Symetrix_322_Quick_Start.pdf
Features
Half rack space, two (2) channel multi-purpose digital signal processor. Applications: Installed Sound, Broadcast, Studio.
Mixer, Routing, Noise Generator, Delay.
Compressor/AGC, Limiter, Gate, Parametric, Shelf EQ, plus Hi/Low pass filters.
Software available on line for easy drag and drop set-up.
Features four presets and tamper proof front panel.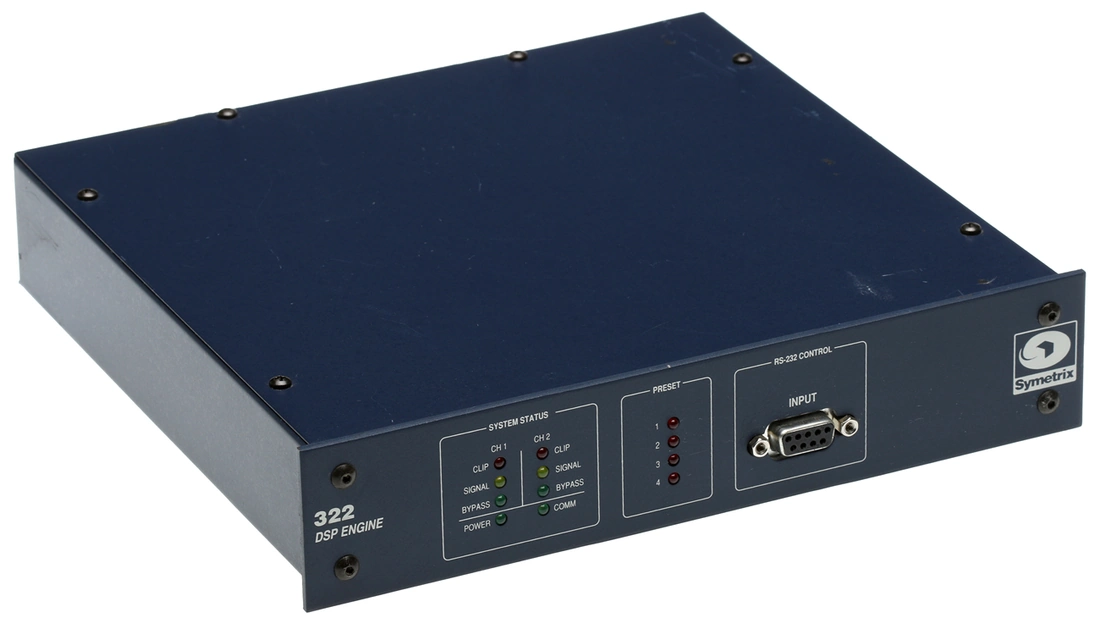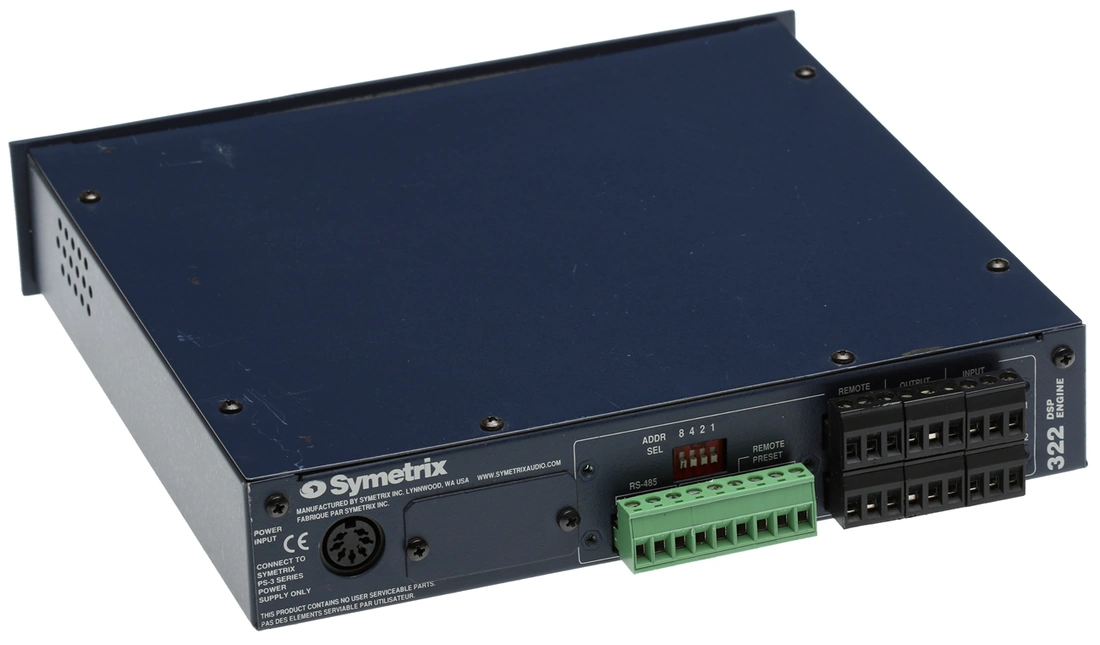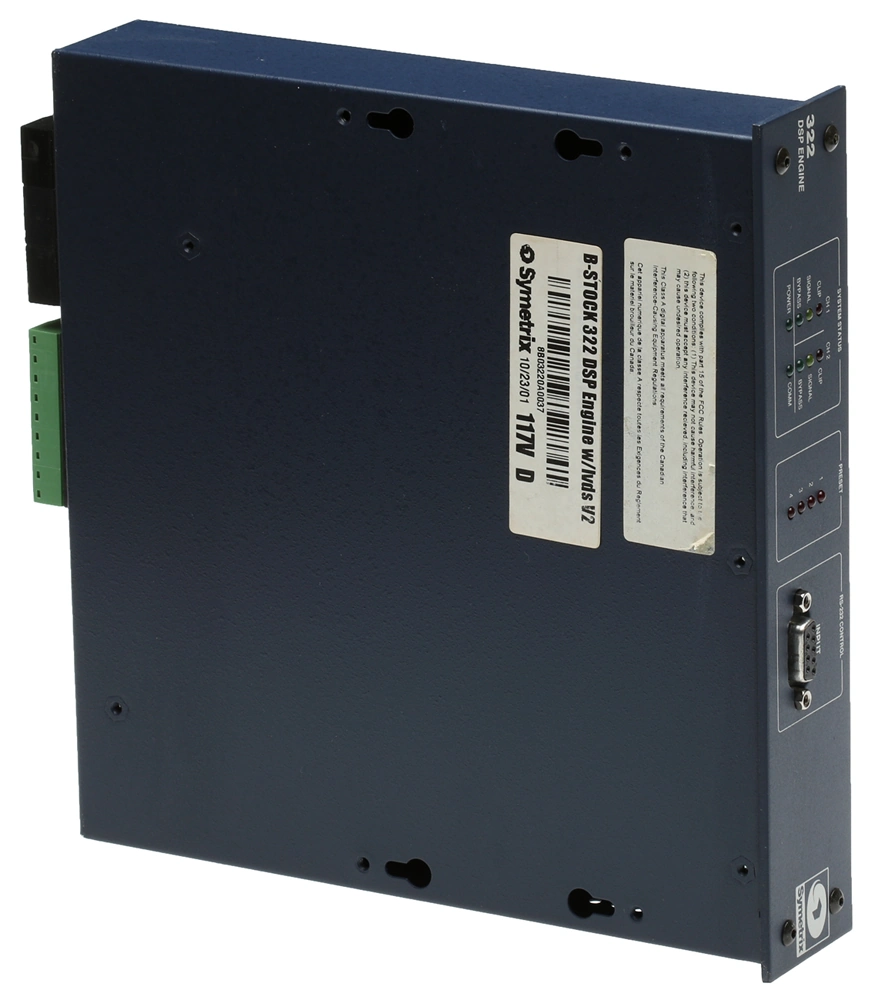 ---
Share this Product
---
More from this collection