Symetrix Airtools 6000 Broadcast 40 Sec Profanity DUMP Button Delay XLR Balanced
(
235273987057)

)

Regular price

$707.00

Sale price

$1,036.00

(1 available in stock)

Tested/Guaranteed • Fully Working • 40 (actually 39) Seconds of Delay [see text] • Variable DUMP Times • 115/230V


Used, in excellent condition and fully working with the caveat that the last one second of delay time doesn't work, so the maximum delay is 39.4 seconds (ie. plenty for almost all applications). If you dial the delay up beyond 39.4 seconds, the unit will continue to pass audio and remain stable.- it just won't show that full delay has been achieved.  This is a common quirk of these delay units.  It doesn't affect the stability of the audio chain.  The photos show the actual item for sale. No unpictured cables, accessories or documents are included.  SN 80060002E0032 .

Description
The AirTools 6000 is a 24-bit digital delay unit for live broadcast that prevents unwanted profanity or comments from reaching the airwaves.
Full details may be obtained from the User Manual at
https://www.prostudioconnection.net/1408/6000_Delay_Manual.pdf
Engineered by Symetrix, the AirTools 6000 offers advanced delay technology with up to 40 seconds of user-definable delay at a full 20 kHz range of stereo bandwidth. The AirTools 6000 brings world class profanity delay within the reach of any broadcaster.

Features
Up to 39.4 seconds of delay (user programmable in 0.1 second increments).
Full 20 kHz stereo bandwidth, perfect for music and speech.
Advanced delay technology - user selectable delay algorithms.
Remotely controlled from the AirTools RC-6000 or from your custom panel.
Automation Control Interface (closure inputs & output relays) for seamless segues.
Backwards compatible with the Symetrix RC-610 and most existing custom wiring.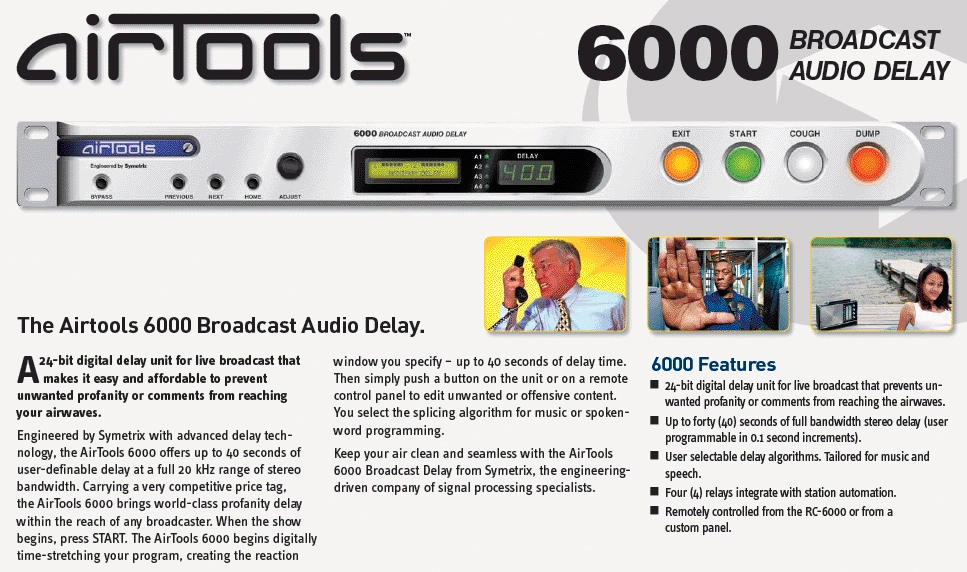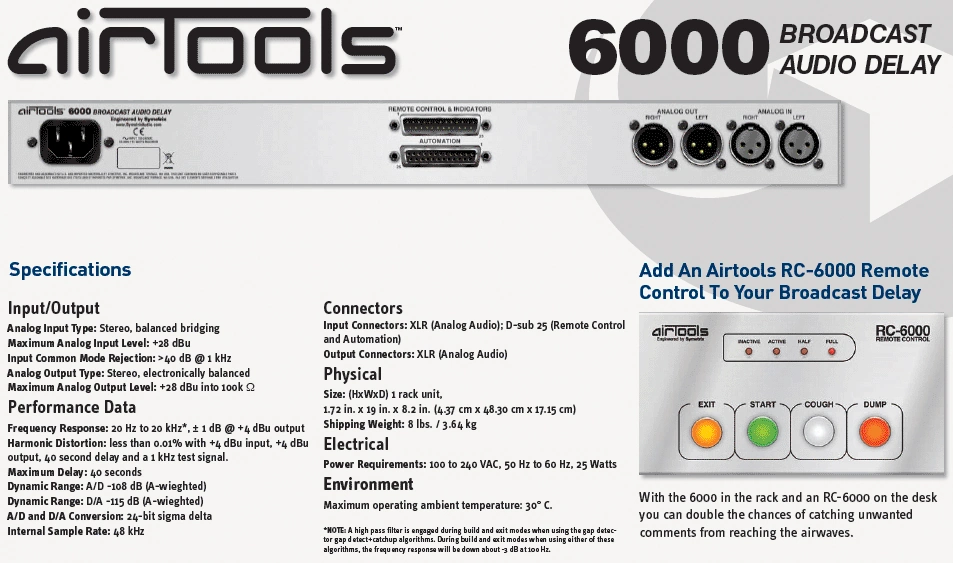 ---
Share this Product
---
More from this collection