TrueTime Symmetricom NTS-100i GPS NTP Network Time Server Master Clock IRIG-B
(
364488638451)

)

Regular price

$390.00

Sale price

$573.00

(1 available in stock)

Tested/Guaranteed • Fully Working • Very Good Condition • GPS Disciplined AUI NTP Server • 5V Antenna Power • IRIG-B & 1PPS Timecode • Network Time Server Atomic Master Clock • With Rack Ears

Photos show the actual item for sale

Item is lightly used in very good cosmetic condition. It has been tested to confirm that it works as it should - see below for the console port output obtained during testing of the actual item for sale. The time and date are correctly obtained from the GPS system. The network connection at the rear is via an AUI port. AUI to 10Base-T RJ45 converters are cheap and readily available - see here. The unit achieves sync via the GPS satellite constellation. A basic 5V test antenna is included to get you started - the antenna needs a full view of the sky to achieve reliable time sync. For a permanent installation an external antenna is highly recommended and the unit will probably not operate reliably through a window. I usually have some suitable antennae listed. Contact me if you need a recommendation.
Description
This is a GPS Master Clock receiver that has IRIG-B, 1 PPS, RS-232 and Ethernet interfaces. Input voltage is universal 95-260 V AC.
Full details may be obtained from the Product Manual at
https://www.prostudioconnection.net/1405/Manual_nts-100i.pdf
Key Features
Stratum 1 network time server
GPS time reference
1 millisecond accuracy
Web-based status and control interface
Telnet remote control
SNMP Enterprise MIB support
MD5 Security Protocol
1 PPS and IRIG B output
TrueTime's NTS-100i offers the total solution for enterprise-wide time synchronization over the network. The NTS-100i acquires precise time from GPS and distributes the time over the network using the Network Time Protocol (NTP). The NTS-100i can synchronize client computers typically to 1 millisecond. By installing the NTS-100i within your network firewall, you can ensure high reliability and security in delivering precise time.

The NTS-100i network time server is an essential resource for today's enterprise network. Keeping accurate time on computers across the network is critical in many applications, including file timestamping, database transactions, e-commerce, and network security. Computer clock synchronization using the NTS-100i and ethernet time clients is an automatic function that eliminates operator errors or delinquency in manually setting the time. Because you can synchronize the NTS-100i to the GPS satellite system, precise network synchronization is available across the globe.
NTS-100i units deployed across widely separated local networks maintain synchronization across an organization without requiring time transfer between them. For easy remote access and control of the NTS-100i, you can use a standard web browser such as Netscape or IE Explorer. The intuitive graphical user interface is ideal for quickly checking a wide range of status functions and swiftly making any adjustment necessary. In addition to the browser interface, the NTS-100i supports Telnet, SNMP, DHCP, MD5, and RS-232 interfaces. Status and control functions are available via Telnet. The SNMP with MIB II support offers a standard interface for status information.

Password protection maintains secure remote access to the unit, and MD5 security protocol can authenticate NTP client-server communication.
The NTS-100i is a full-featured, Stratum 1 network time server easily configured into a network. The rear panel supports 10Base-T connectors for timing and control functions; a 9-pin RS-232 connector; and two BNC output connectors for IRIG-B and 1 PPS outputs. A separate BNC connector is provided for Alarm outputs. The NTS-100i also includes a front-panel keypad, a display, and a status/alarm LED. GPS-equipped units include an integrated GPS receiver, an antenna for external mounting, and a cable. Bringing the NTS-100i on-line requires only entering the IP address, subnet mask and gateway address.

The receiver locks onto a GPS signal when the antenna has a reasonable view of the sky. The status indicator then turns to flashing green - indicating that time has been successfully acquired with no problems detected.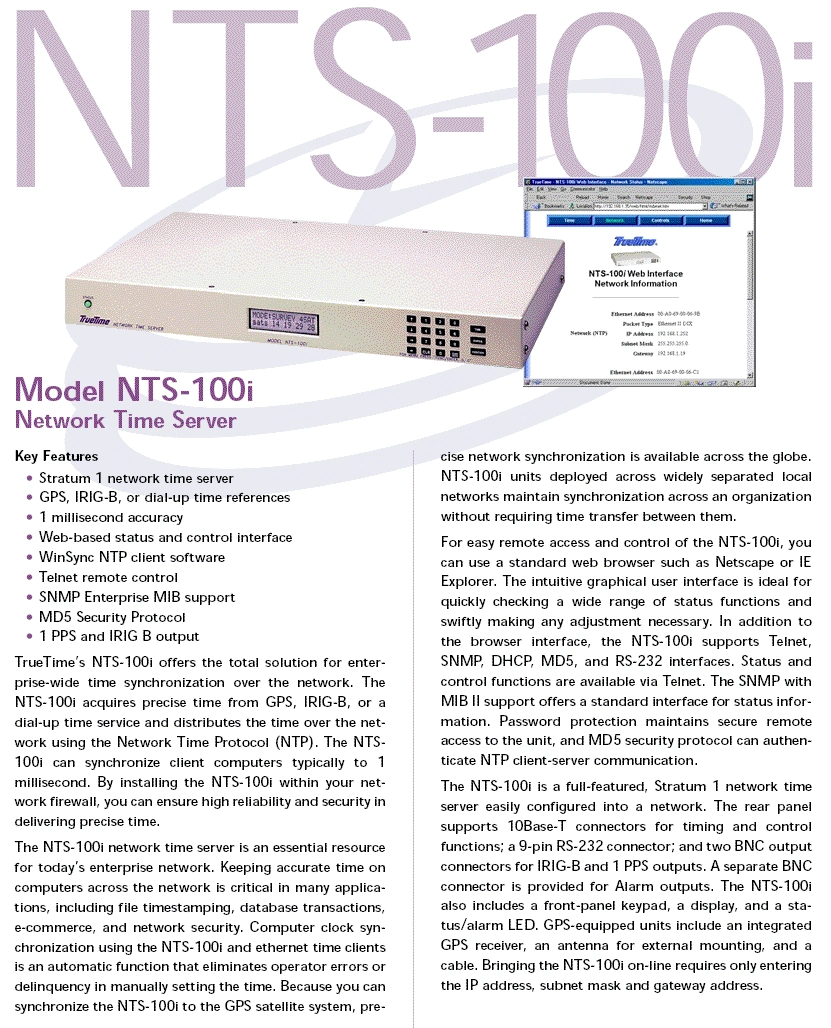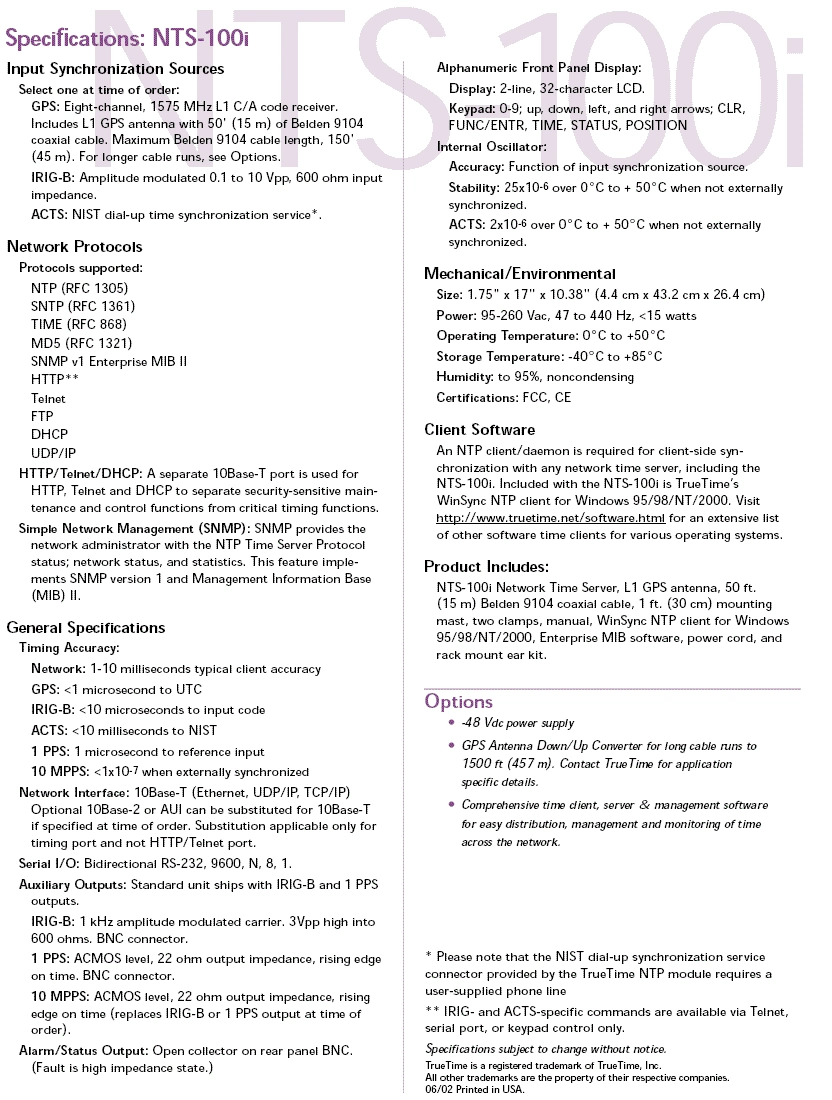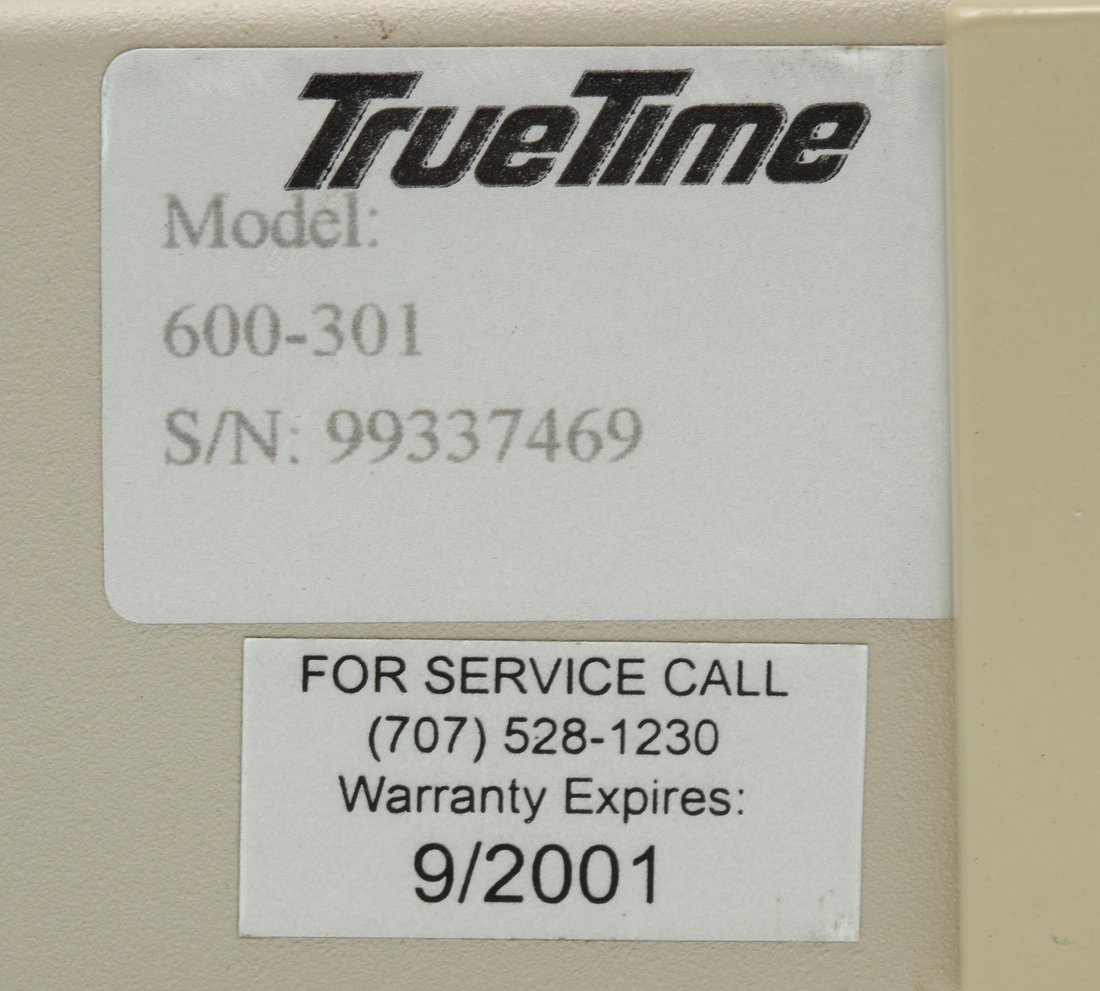 Console Output

f01
F01 +00:00

f02
F02 24

f03
F03 UTC 09/19/23 15:21:25

f05
F05 ON 00000010000 00000100000 00001000000 00010000000

f13
F13 00.000005000

f18
TRUETIME Mk III sys ver 009 NTS V1.013 182-7008v008


f36
F36 IP:192.168.1.188 SM:255.255.255.0 G:192.168.1.1 N:E

f50
F50 N 28d32'11.1" W 081d39'9.8" 6m pdop 2.36

f51
F51 +140ns

f53
F53 TIME: 7 SATS

f55
F55 METERS

f56
F56 N 28d32'11.1" W 081d39'9.7" 9m COUNT 90000 / 90000

f60
F60 prn 1 good enabled sig level= -0.00
F60 prn 2 good enabled sig level= -0.00
F60 prn 3 good enabled sig level= -0.00
F60 prn 4 good enabled sig level= -0.00
F60 prn 5 good enabled tracked current sig level= +13.20
F60 prn 6 good enabled sig level= -0.00
F60 prn 7 good enabled sig level= -0.00
F60 prn 8 good enabled sig level= -0.00
F60 prn 9 good enabled sig level= -0.00
F60 prn 10 good enabled sig level= -0.00
F60 prn 11 good enabled sig level= +5.60
F60 prn 13 good enabled tracked current sig level= +12.20
F60 prn 14 good enabled sig level= -0.00
F60 prn 15 good enabled tracked current sig level= +15.00
F60 prn 17 good enabled sig level= -0.00
F60 prn 18 good enabled tracked current sig level= +10.60
F60 prn 19 good enabled sig level= -0.00
F60 prn 20 good enabled sig level= -0.00
F60 prn 21 good enabled sig level= -0.00
F60 prn 22 good enabled sig level= -0.00
F60 prn 23 good enabled tracked current sig level= +9.00
F60 prn 24 good enabled tracked current sig level= +5.60
F60 prn 25 good enabled sig level= -0.00
F60 prn 26 good enabled sig level= -0.00
F60 prn 27 good enabled sig level= -0.00
F60 prn 28 good enabled sig level= -0.00
F60 prn 29 good enabled tracked current sig level= +11.20
F60 prn 31 good enabled sig level= -0.00

f67
F67 none 18

f68
F68 2004

f71
F71 phase=-1.197E-06 s offset=-8.347E-09 drift=-4.162E-06/DAY DAC= -1081

f72
F72 Antenna: OK GPS: Locked

f73
F73 SLAT0---- M-------- m--------

(1999)

---
Share this Product
---
More from this collection