Graham Patten SoundPals DTG-1 AES/EBU Digital Audio Test Tone Signal Generator
(
364524464951)

)

Regular price

$242.00

Sale price

$355.00

(1 available in stock)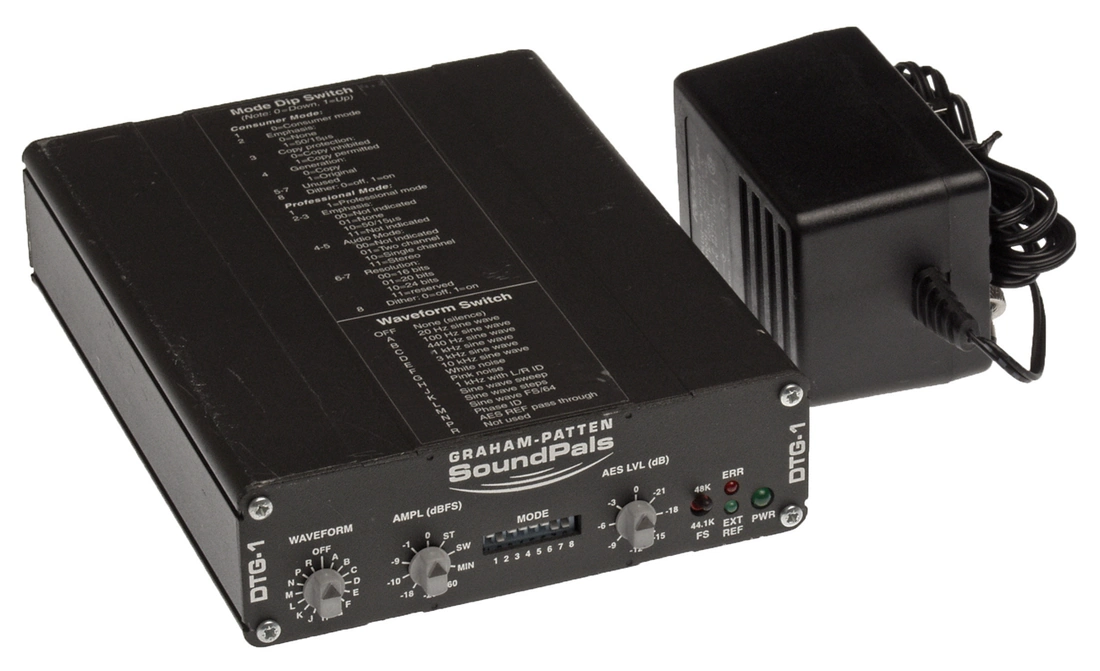 Used - Good Condition • Tested - Fully Working • OEM 115V/230V AC Power Supply Included • Multiple item listing, so there may be small non-performance affecting variations between units.
Overview
The DTG-1 is an economical source of a variety of audio test signals that are generated entirely in the digital domain and output in the AES/EBU format.
Use it in the studio as a reference tone generator or on the bench as a troubleshooting tool.
Rugged, compact, and capable of running off battery power, the DTG-1 is also ideal for portable applications.
The DTG-1 has internal oscillators for both 44.1 and 48kHz sample rates, or it may be locked to an external reference.
The DTG-1 has all the adjustments needed to make isolation of digital transmission problems simple and easy to find. Like all of the modules in the SoundPals line, the DTG-1 is housed in a compact, rugged aluminum enclosure.
Full details may be obtained from the User Manual and Datasheet
(https://www.prostudioconnection.net/1509/SoundPals_DTG-1%20_Manual.pdf)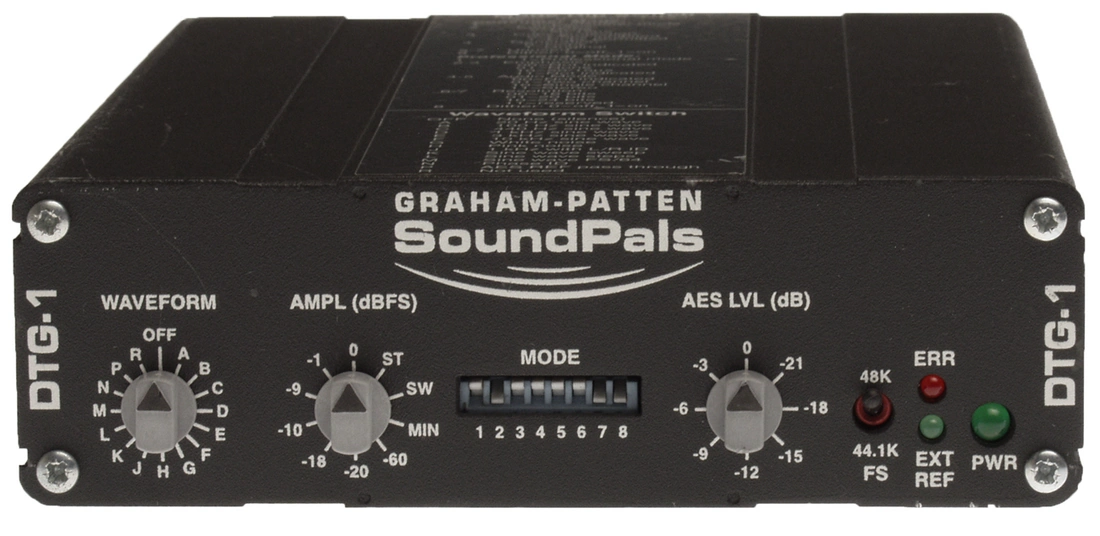 Output Waveforms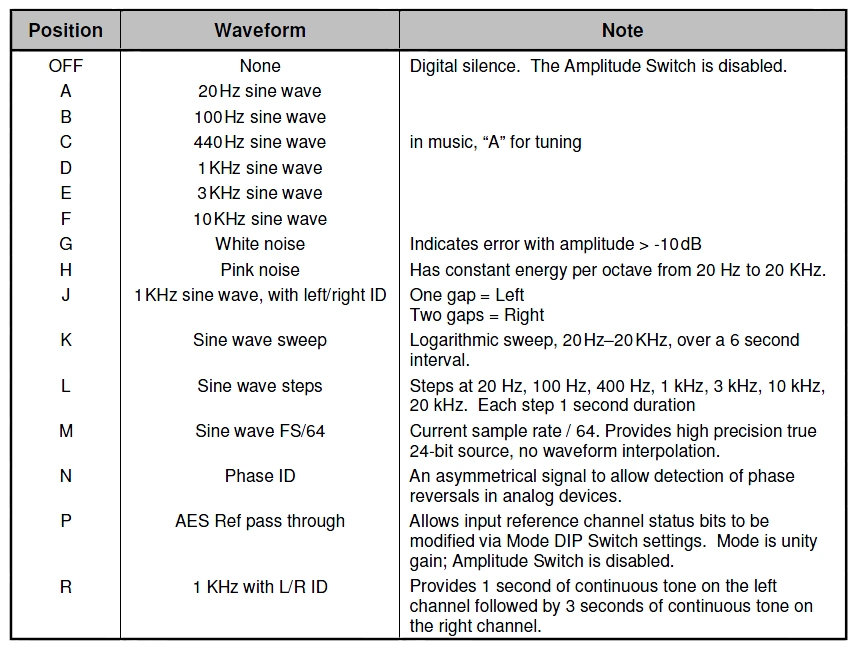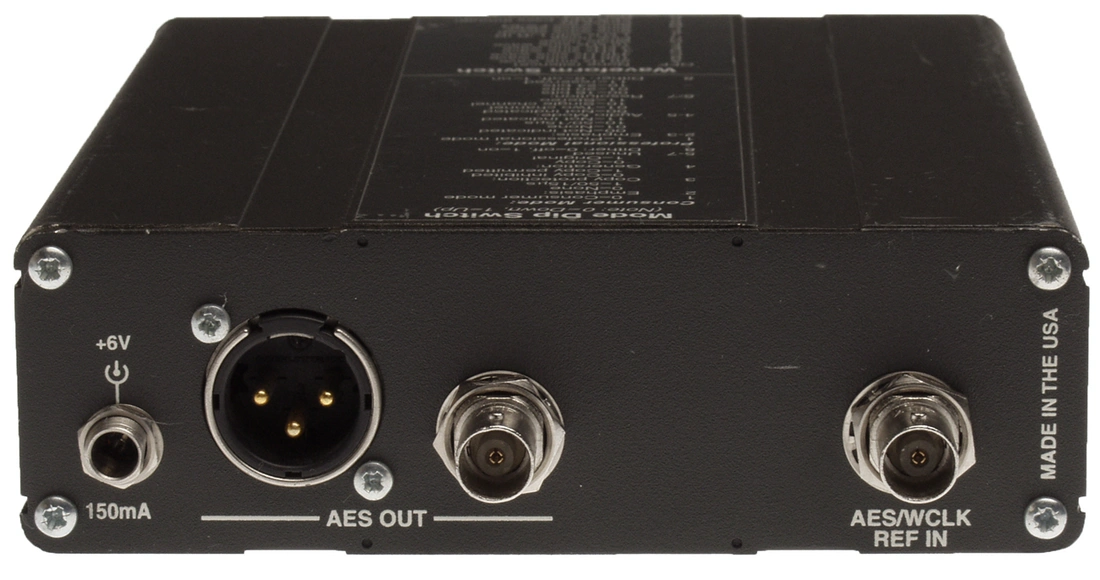 Description
The SoundPals DTG-1 is a Digital Test Generator that produces a variety of AES test signal waveforms with adjustable frequency and amplitude. The DTG allows you to vary the AES output level and also set different combinations of channel status bits. The unit's sampling frequency can be generated internally at 48 KHz or 44.1 KHz, or it can be locked to an external AES3id (or Word Clock) reference.
The unit offers the following features:
AES and AES3id waveform outputs
16-position rotary waveform switch
10-position rotary amplitude switch
8-position rotary level switch
8-position DIP Switch for mode and status bit settings:

Consumer mode settings are provided for Emphasis, Copy Protection, Generation and Dither.
Professional mode settings are provided for Emphasis, Audio Mode, Resolution and Dither.
All DIP Switch functions listed on top chassis label.

AES or Word Clock reference input
Switch-selectable internal reference, 44.1 KHz or 48 KHz
Compact size, rugged construction
AES or Word Clock reference
Note that the DTG-1 can synchronize to an external AES reference or Word Clock at 32 KHz-50 KHz sampling rate. When an external reference is not provided, the unit runs at the default frequency, as
set by the front panel switch.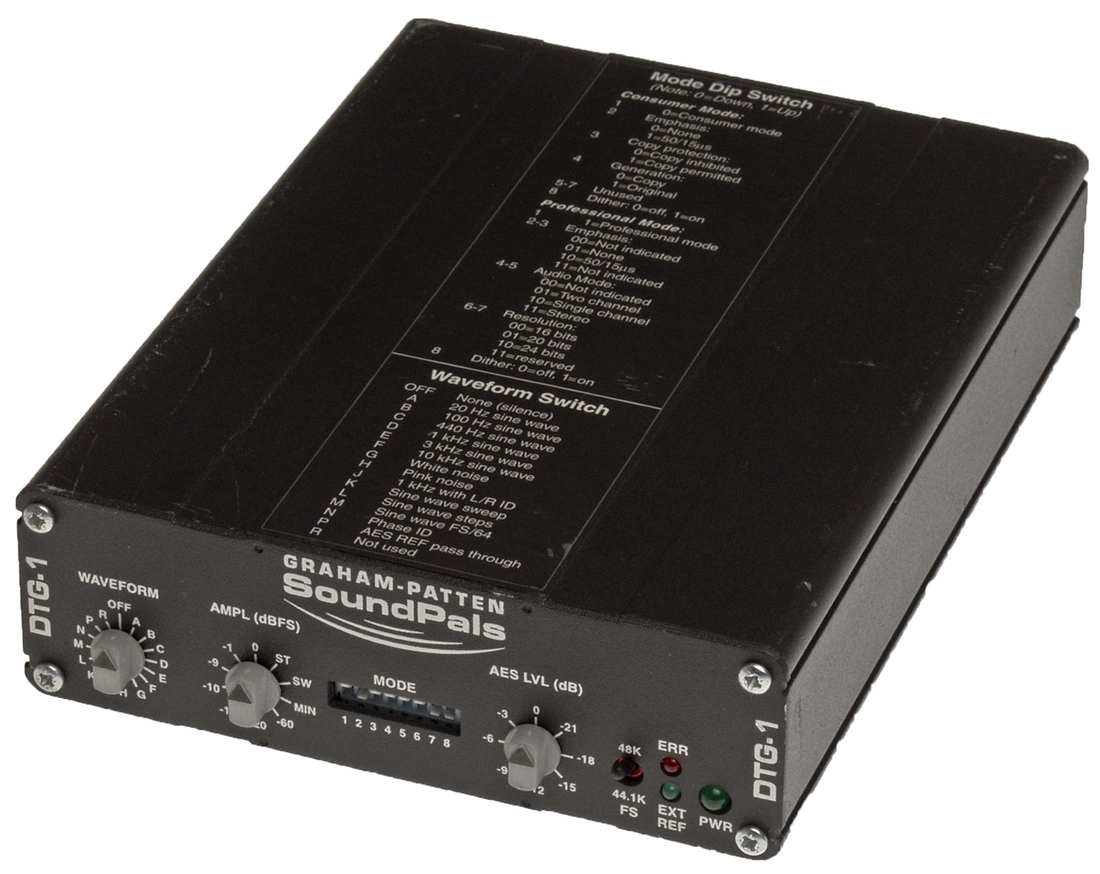 Technical Data
Output impedance 110? balanced (XLR output), 75? unbalanced (BNC output)
Output level (XLR output) 4.5Vp-p, adjustable in 3dB steps down to 400mV (-21dB)
Output level (BNC output) 1Vp-p, adjustable in 3dB steps down to 90mV (-21dB)
Audio resolution Switch selectable to 16, 20, or 24-bits
Audio waveform amplitude - Switch selectable to eight preset values from 0 to –60dBFS and LSB only
Audio waveforms selectable - 20Hz, 100Hz, 440Hz, 1kHz, 3kHz and 10kHz sine waves, 1kHz tone with L/R channel ID, phase ID, sine wave frequency / amplitude sweep/step, white noise, pink noise, silence.
Output waveform dither - Switch selectable 1 LSB TPDF output dither
Internal reference Switch selectable to 44.1 or 48kHz
External reference input - AES3id or word clock, Fs=30 to 50kHz
Power 150mA @ 6Vdc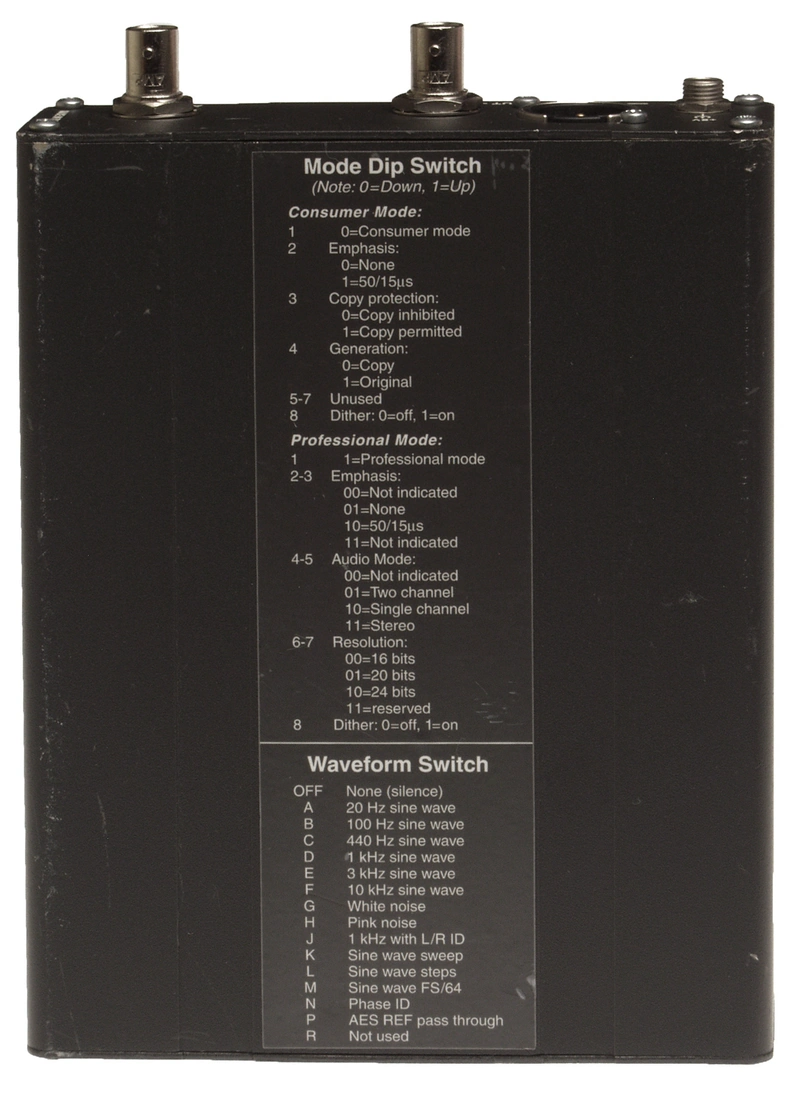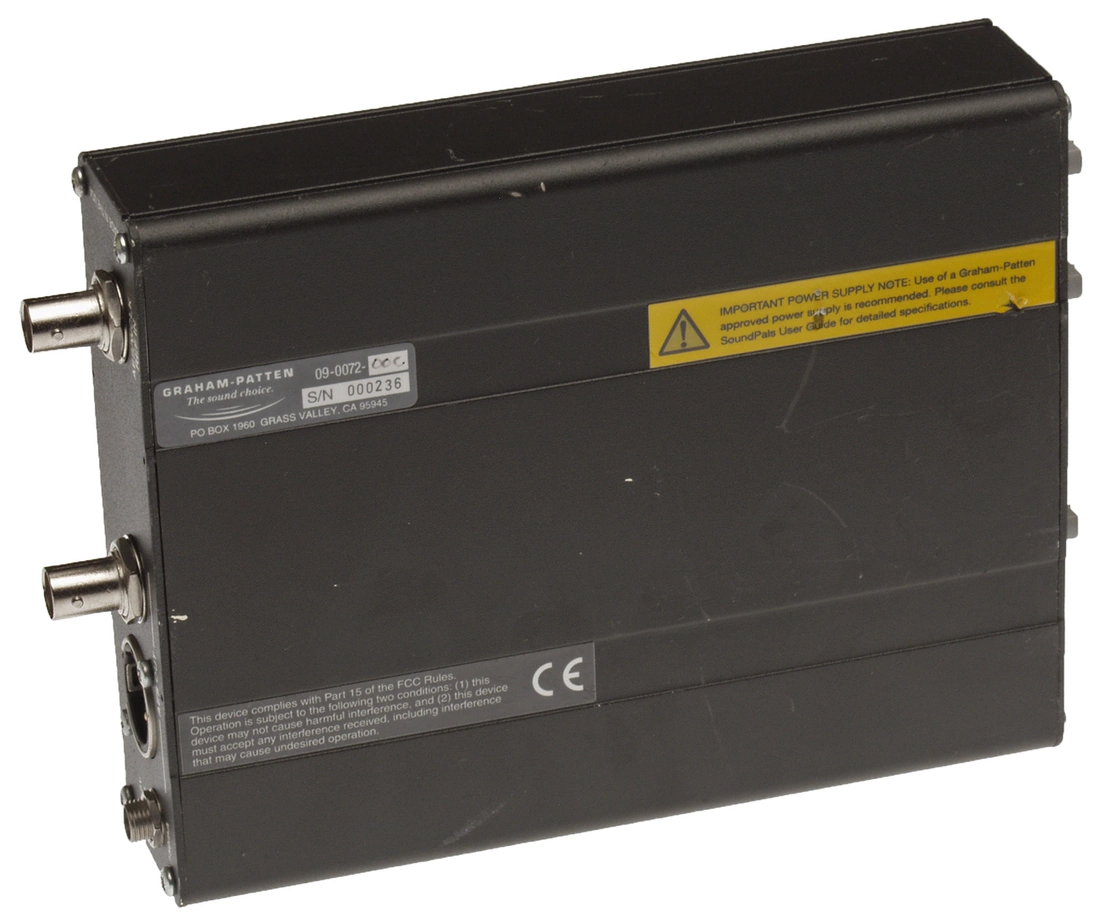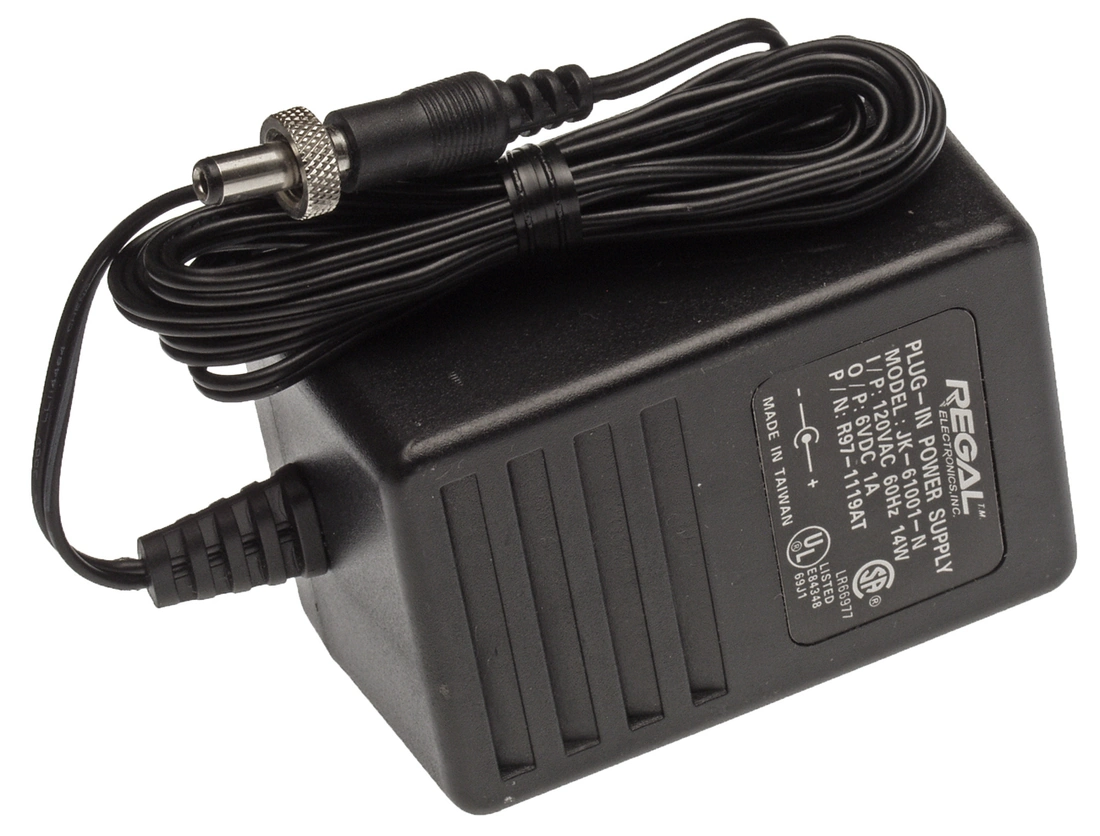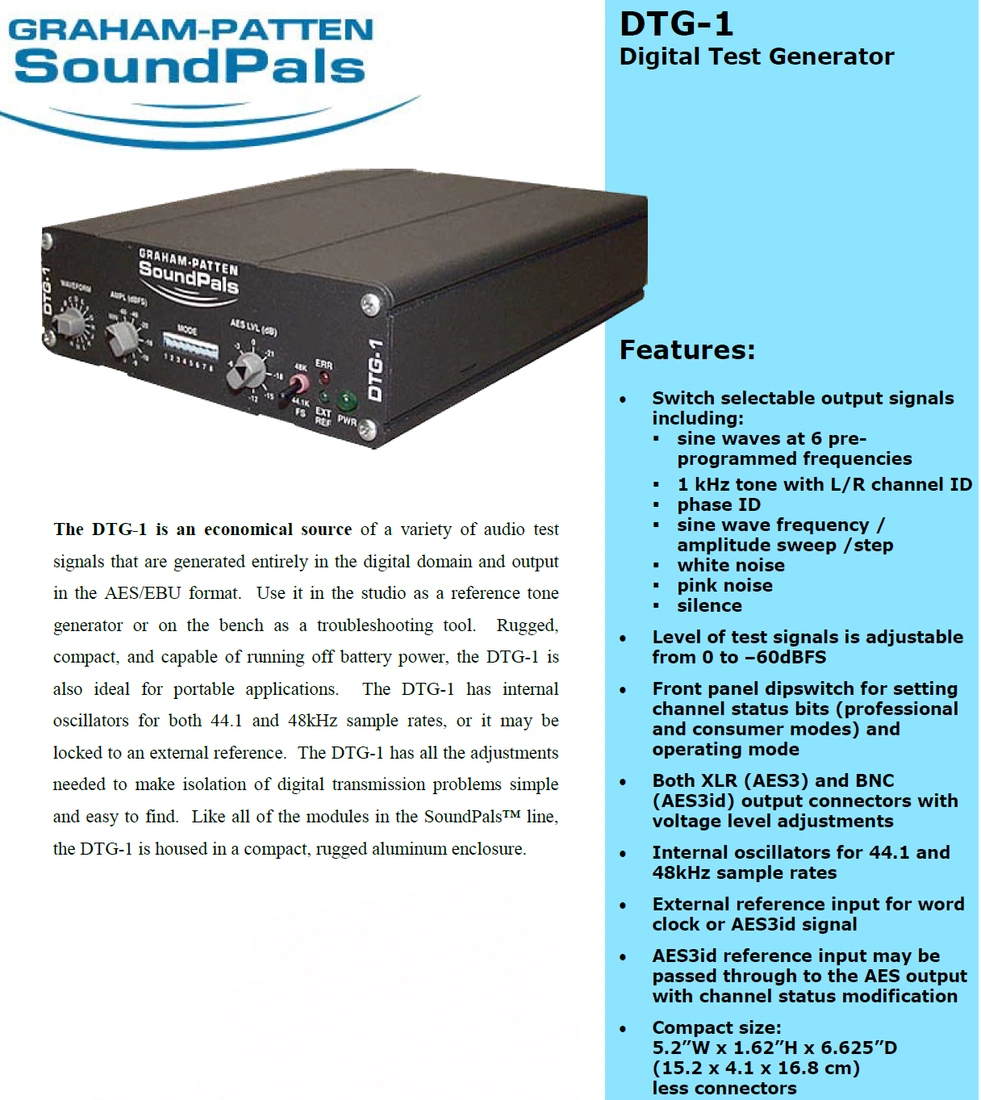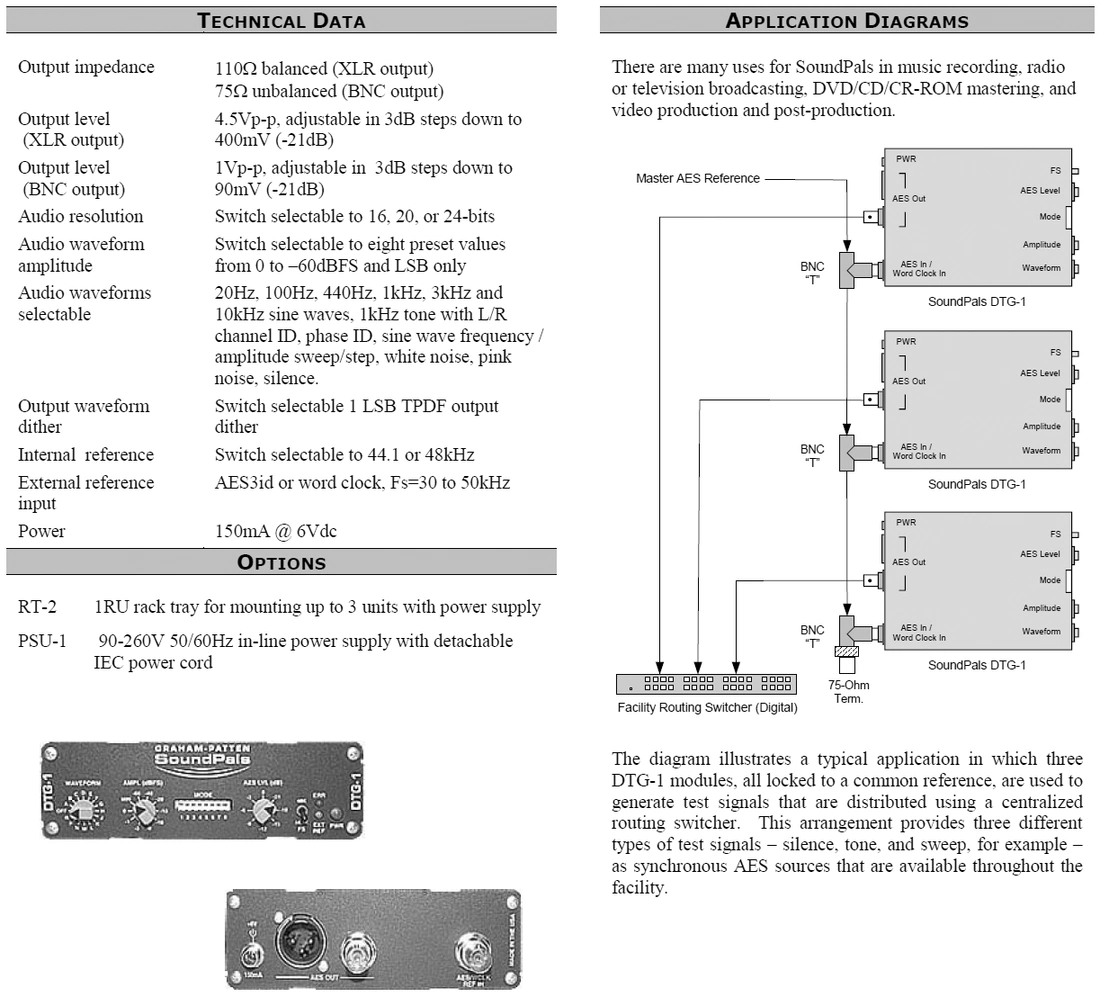 ---
Share this Product
---
More from this collection