Spectracom SecureSync 213 OCXO 3xGb GPS GLONASS NTP Network Time Server 10MHz
(
235303131785)

)

Regular price

$1,550.00

Sale price

$2,236.00

(1 available in stock)

Tested/Guaranteed • Fully Working • Upgraded u-blox M8T GPS/GLONASS/Galileo Multi-GNSS Receiver Installed • OCXO Upgraded Oscillator • Dual AC/DC Power Input Option Installed • Triple Gigabit LAN Option Installed • Stratum 1 NTP Time Server • 10MHz GPSDO Disciplined Oscillator • Includes Rack Ears

Photos show the actual item for sale

Introduction
Here's a lightly-used SecureSync GPS NTP server with an OCXO upgraded internal oscillator for better free-running stability. It also has a 1204-06 Triple Gigabit Network Expansion Card option and the dual redundant AC/DC power input option installed. The unit has a U-blox M8T high performance GPS/GLONASS/Galileo/Beidou receiver card installed - which tracked 18-20 satellites from the three constellations using my regular L1 GPS test antenna. You can select up to three constellations for the receiver to track. For your peace of mind the unit has been tested and confirmed to operate as expected - see screenshots below taken during testing. The firmware has also been updated to v5.9.4 which is the latest revision at the time of listing. A professional grade outdoor 5V antenna with a complete view if the sky will be required for the unit to operate to full specification. I usually have some suitable antenna listed separately (and can make a recommendation if required), and a suitable downlead can be obtained from a cable fabricator. The listing comprises the SecureSync server and rack ears as shown. No unpictured accessories, cables, documents or software are included.
Full product information may be obtained from the User Manual
(https://www.prostudioconnection.net/1502/SecureSync_Manual.pdf)

Features
Modular, secure synchronization system
Precision time-keeping via OCXO oscillator
Supported input/output signals (type and quantity dependent on signal and configuration):

GPS
1PPS
Frequency (10 MHz)
ASCII time codes

Modular (configure-to-order) ruggedized shock and vibration-tested chassis
Exceptional Operating Temperature Range of -20 C to +65 C
High bandwidth NTP performance
Ethernet 10/100 Base-T
Secure Network Management: enable or disable protocols for encryption, authentication, authorization and accounting
IPv4/IPv6 dual stack
Usually Sells for $5,000+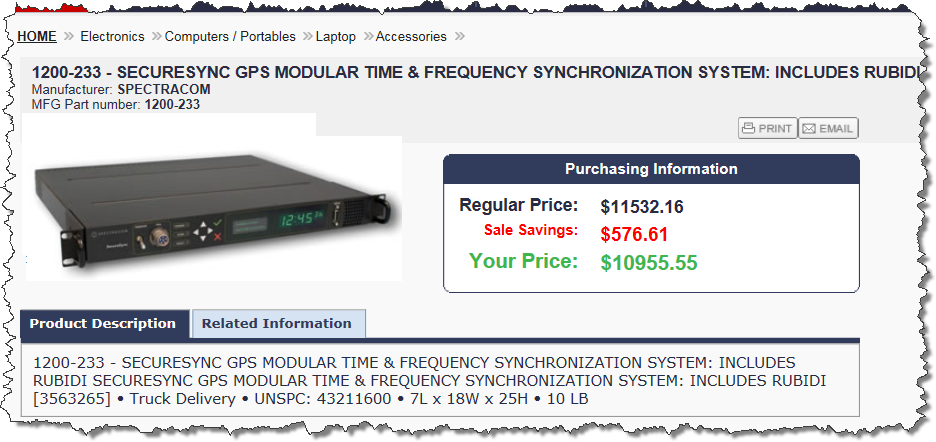 Description
SecureSync combines Spectracom's precision master clock technology and secure network-centric approach with a compact modular hardware design to bring you a powerful time & frequency reference system at the lowest cost of ownership. Military and commercial applications alike will benefit from its extreme reliability, security, and flexibility for synchronizing critical operations.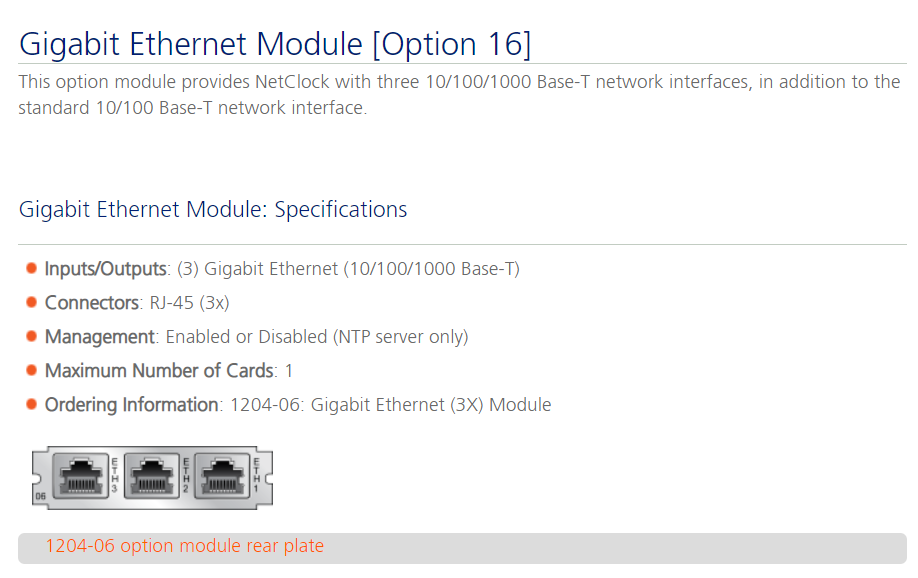 An important advantage of SecureSync is its unique rugged chassis designed to meet Mil 810F for environmental performance. The modular design provides for the most cost effective solution. Built-in time and frequency functions are extended with up to 6 input/output modules (not included).


Included with the base unit is an extremely accurate 1PPS timing signal aligned to a 10 MHz frequency signal without any 10 MHz phase discontinuity.
On-board clocks synchronize to a variety of external references as standard, factory-installed, or upgradeable options. Choose from a variety of option cards [not included] to add to your configuration of timing signals, including additional 1PPS, 10MHz, time code (IRIG, ASCII, HaveQuick), other frequencies (5 MHz, 2.048 MHz, 1.544 MHz), telecom T1/E1 data rates, multi-network NTP, and PTP.
To support network time synchronization, SecureSync supports the latest features of network time protocol (NTP) and precision time protocol (PTP, IEEE-1588v2) [Option not installed]. An optional multi-port NTP configuration [included] allows for operation across 4 isolated LAN segments. For security, system management can be restricted to a dedicated management LAN. Up to 6 PTP ports can be added [not included] to operate in various PTP deployments.
SecureSync is a security-hardened network appliance designed to meet rigorous network security standards and best practices. It ensures accurate timing through multiple references, tamper-proof management, and extensive logging. Robust network protocols are used to allow for easy but secure configuration. Features can be enabled or disabled based on your network policies. Installation is aided by DHCP (IPv4), AUTOCONF (IPv6), and a front-panel keypad and display. The 1 RU chassis supports GPS input.


Features
Modular, secure synchronization system for mission critical networks
Internal precision time-keeping via OCXO oscillator
Supported input/output signals (type and quantity dependent on signal and configuration): •GPS, Secure GPS (L1/L2, SAASM: GB-GRAM or MRU)

1PPS
Frequency (10 MHz)
ASCII time codes

Modular (configure-to-order) ruggedized shock and vibration-tested chassis
Exceptional Operating Temperature Range of -20 C to +65 C
High bandwidth NTP performance
Ethernet 10/100 Base-T
Secure Network Management: enable or disable protocols for encryption, authentication, authorization and accounting
IPv4/IPv6 dual stack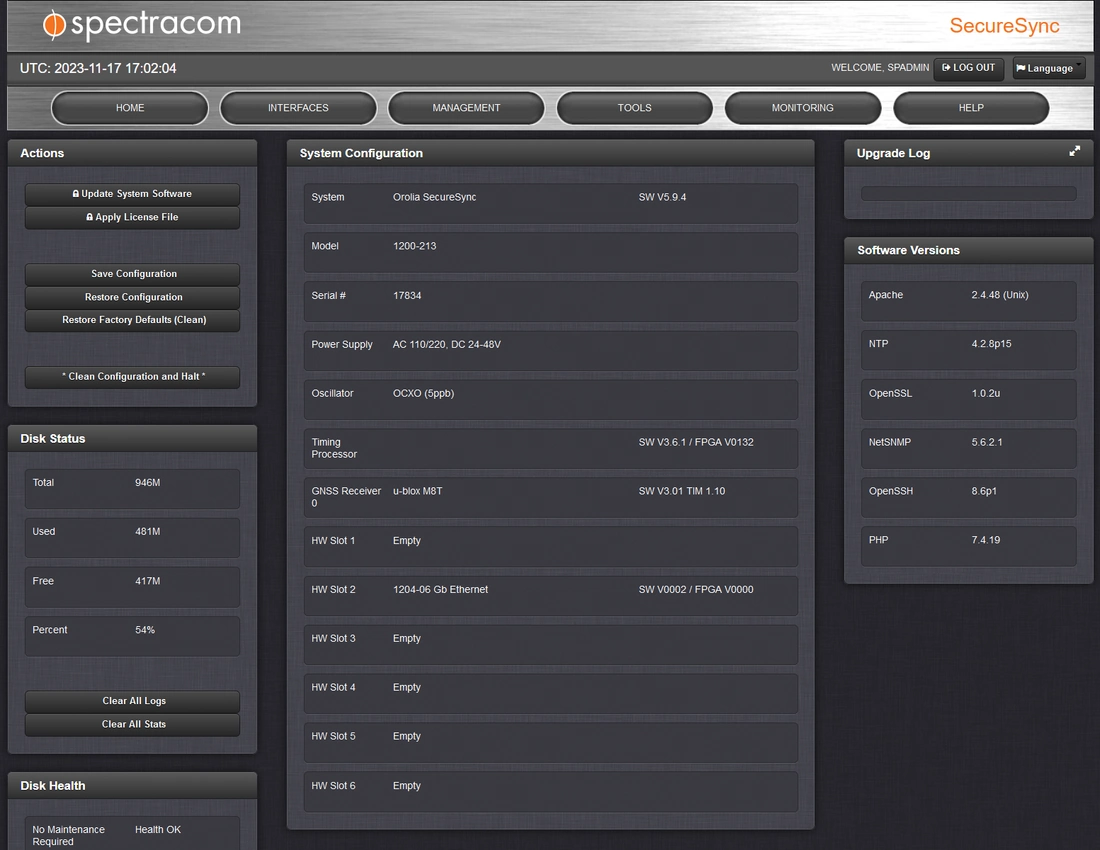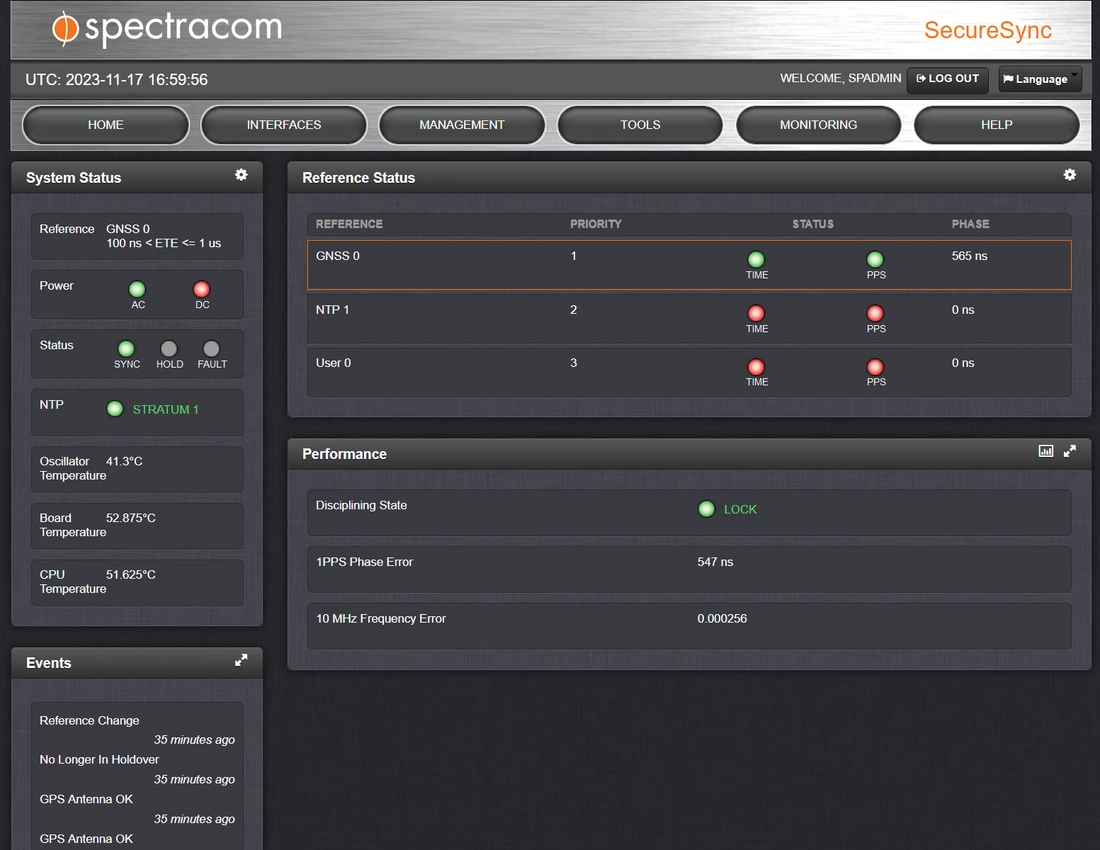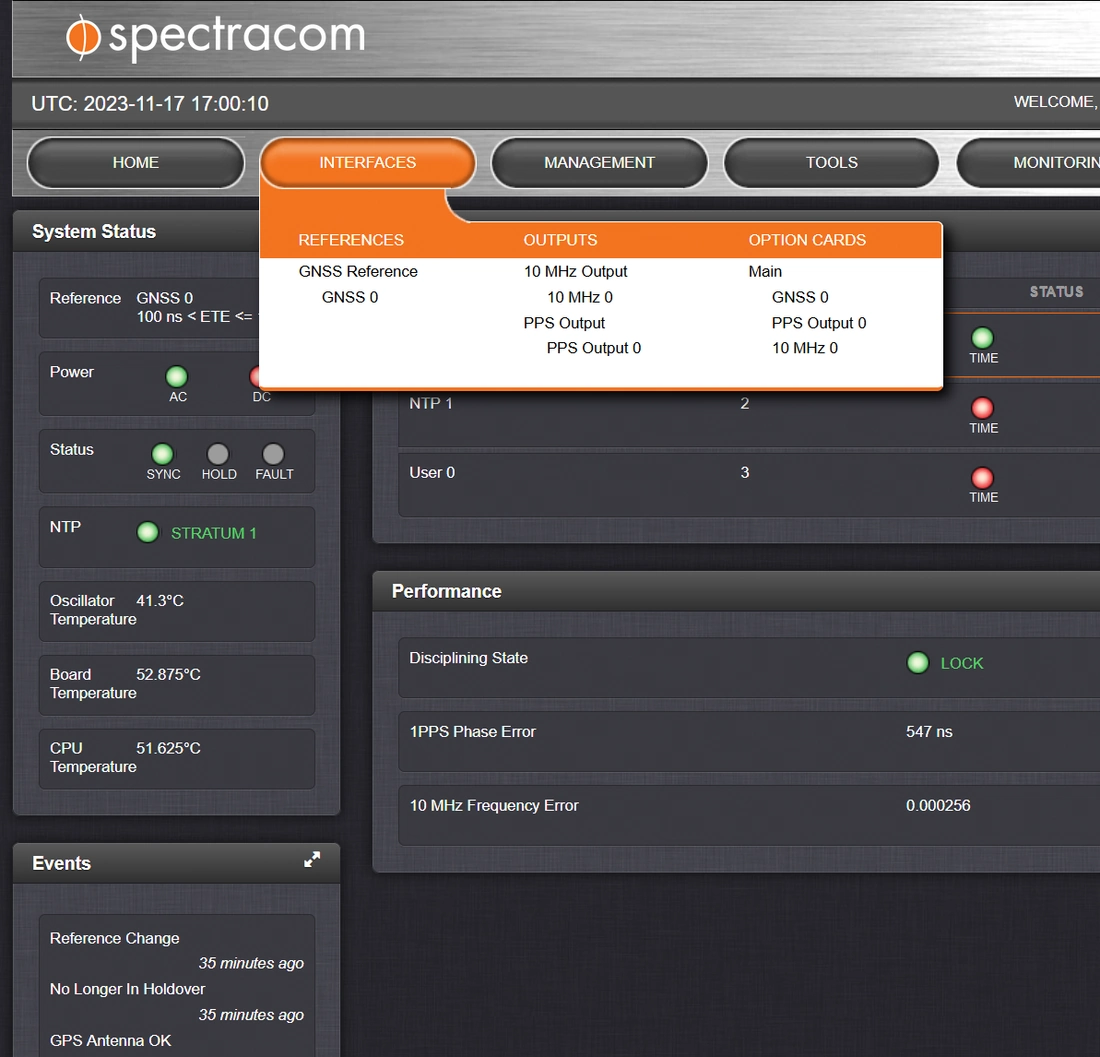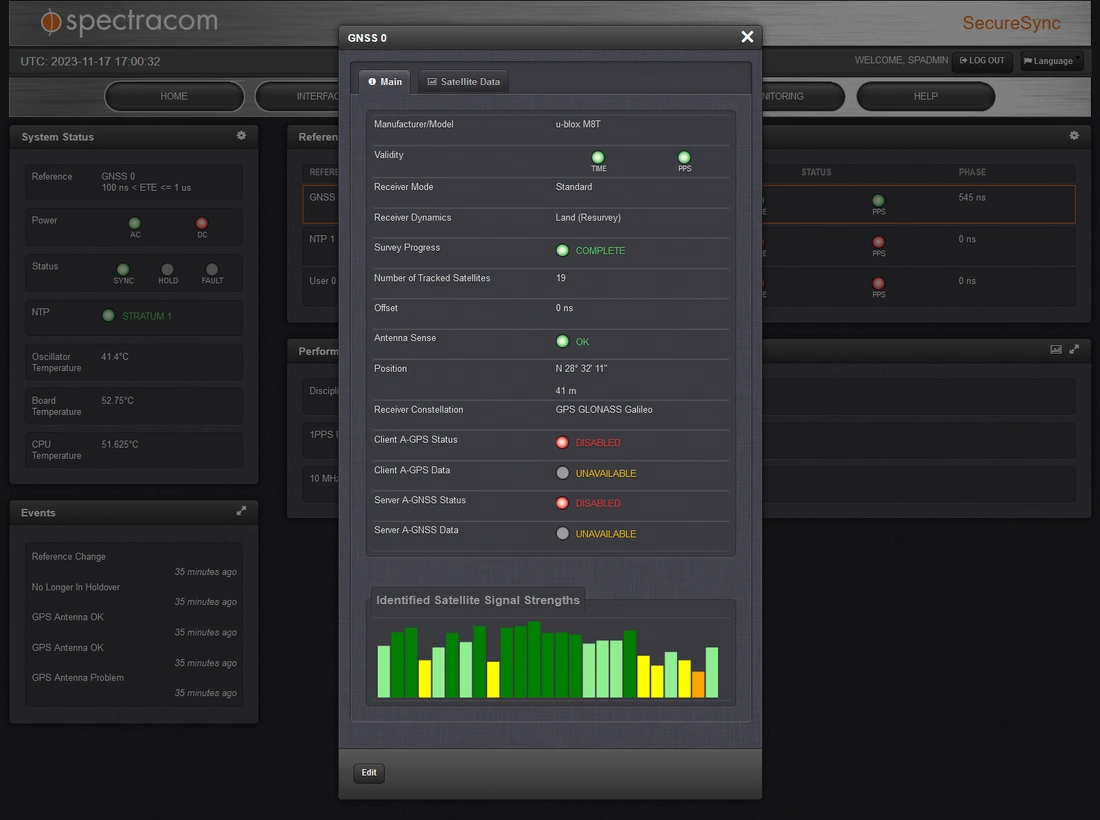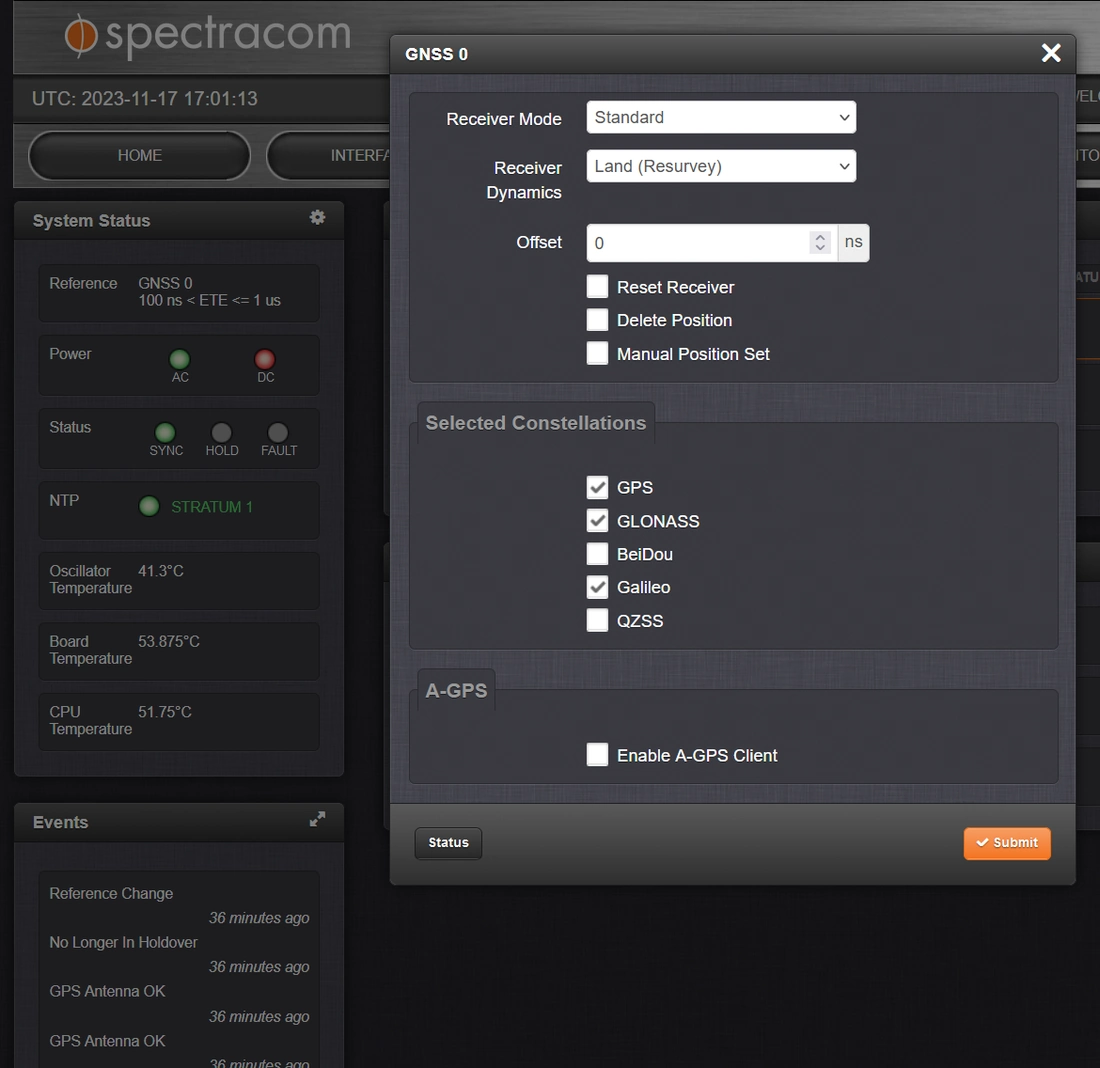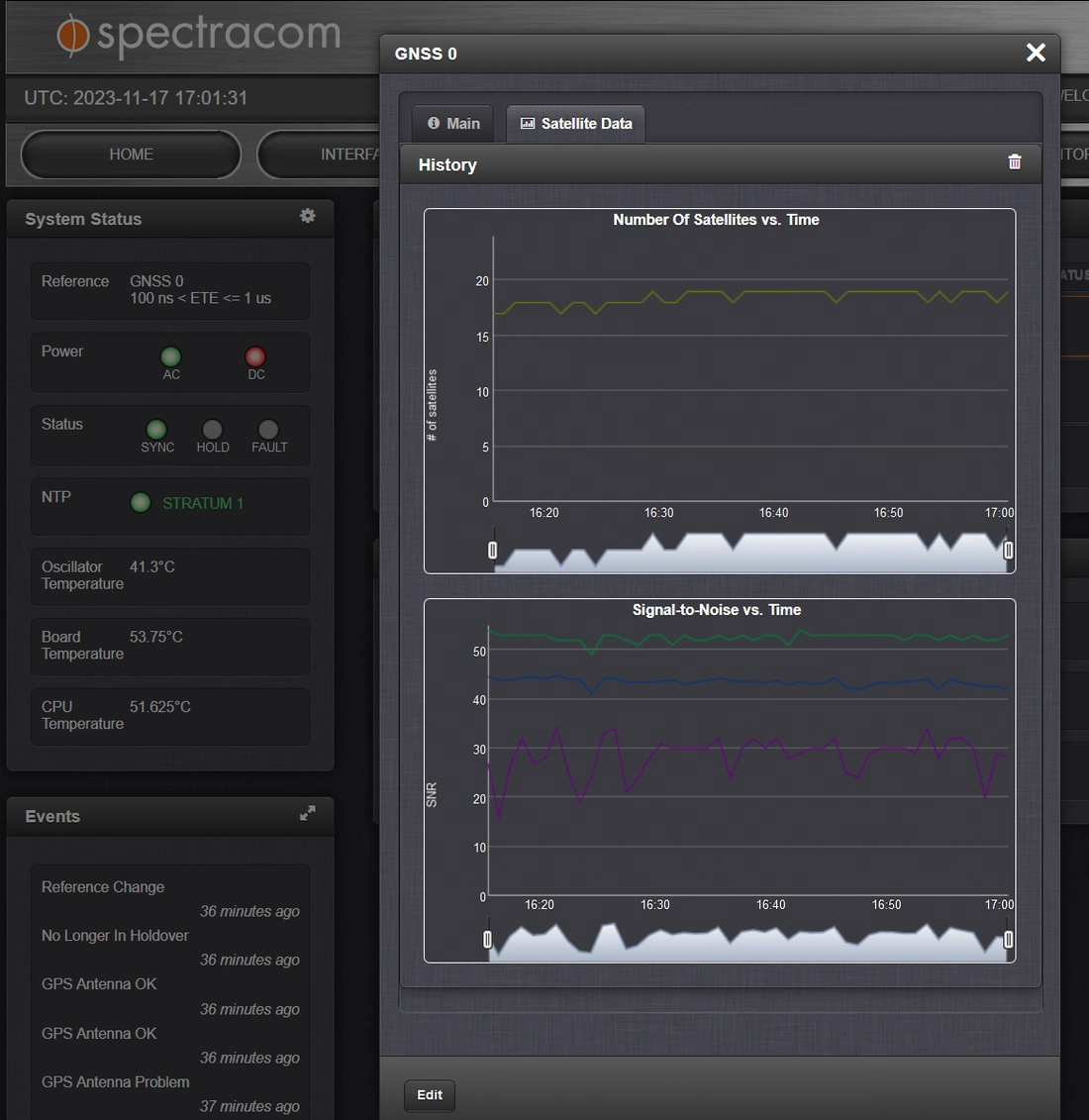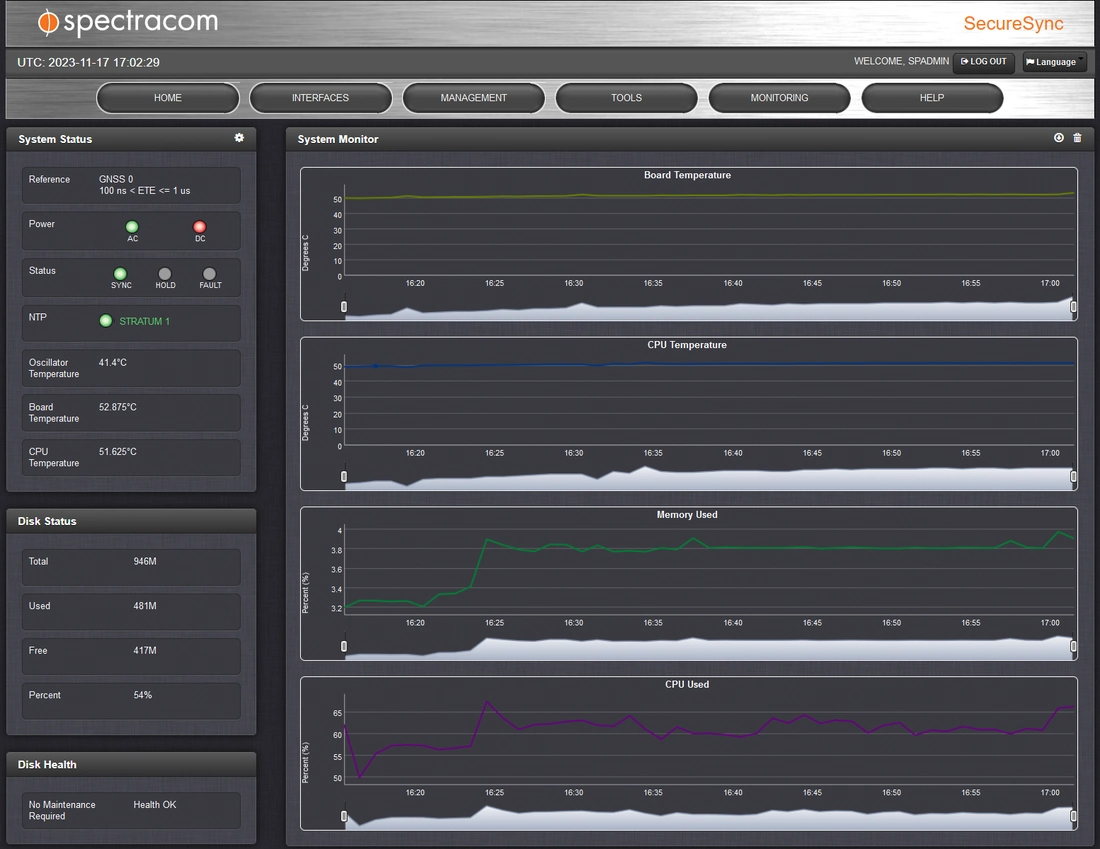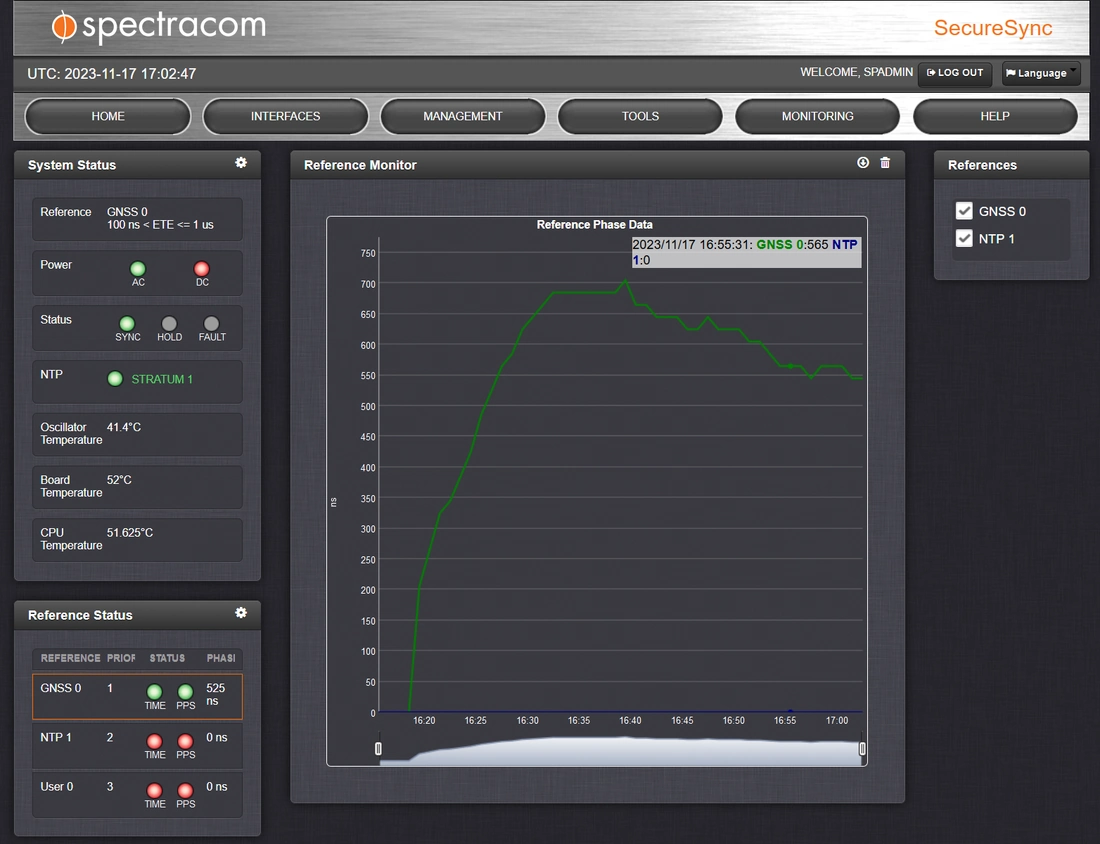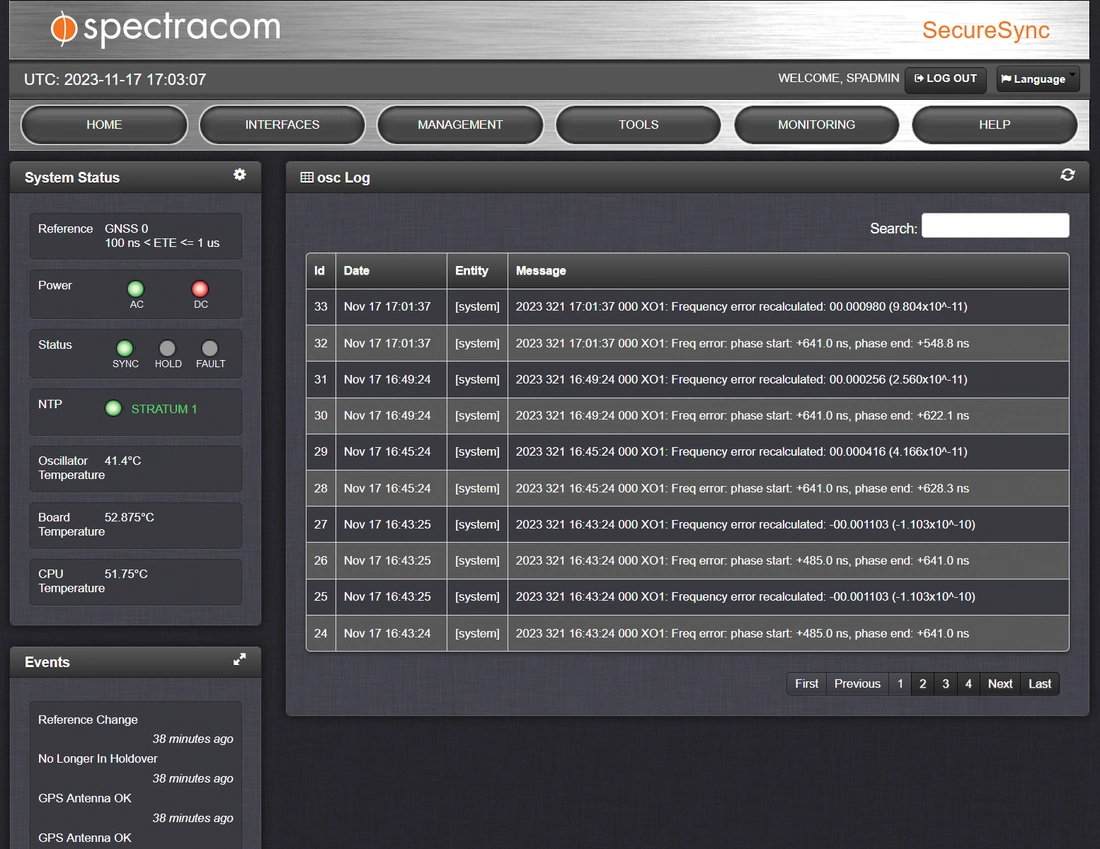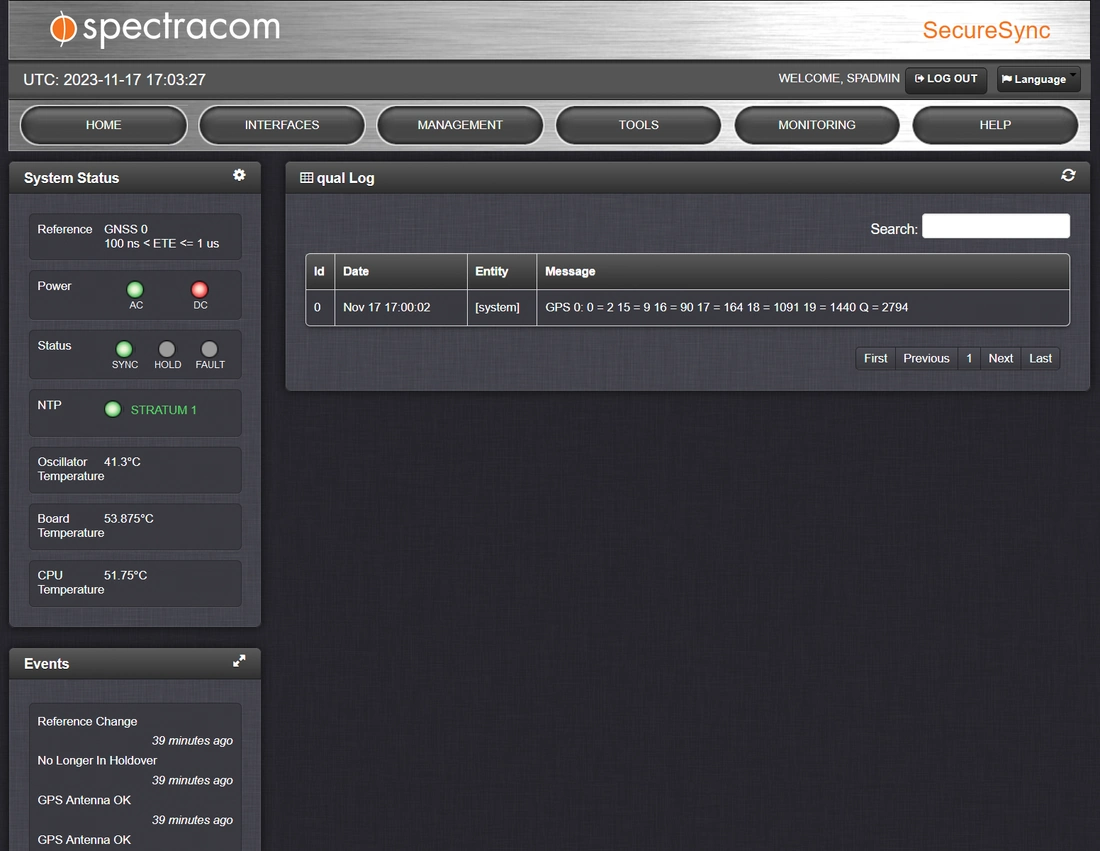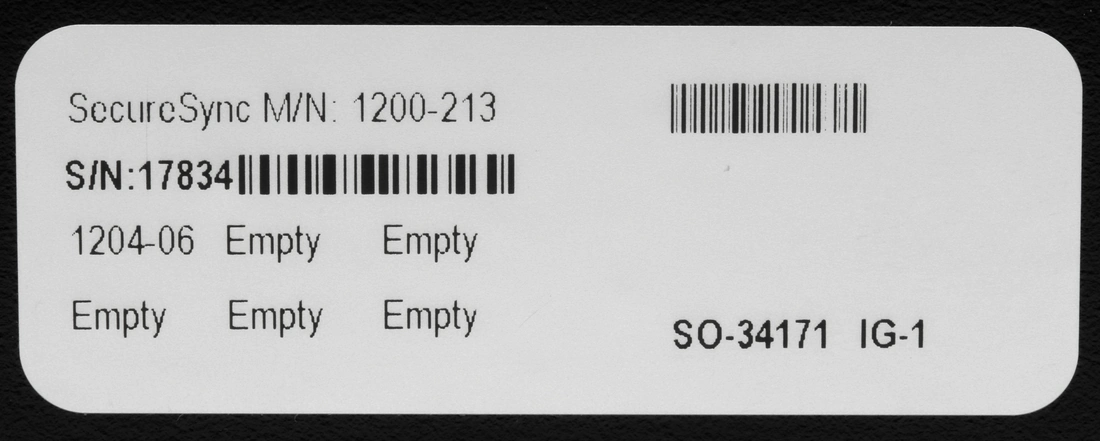 ---
Share this Product
---
More from this collection